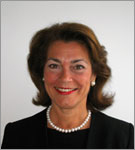 There is a significant trend of single-family offices merging into multi-family offices to reduce costs, protect assets from discretionary funds and enhance security.
Chicago, IL (PRWEB) October 04, 2011
Linda Mack, founder and president of Mack International, a premier retained executive search and strategic family office/human capital management consulting firm, was a roundtable discussion leader and featured speaker at the Latin America Family Office Summit, Sept. 26-28, in Sao Paulo, Brazil.
The Latin America Family Office Summit, produced by World Research Group, focused on the growing market of single- and multi-family offices and their investment strategies and challenges in South America.
"Summit sessions explored the risks and challenges facing family offices, as well as solutions to help Latin American family offices with their development, operational management and investment strategies," Linda Mack explains.
Linda Mack led a roundtable discussion on transitioning from a single-family to a multi-family office. "There is a significant trend of single-family offices merging into multi-family offices to reduce costs, protect assets from discretionary funds and enhance security," she explains. "The roundtable discussion focused on establishing an action plan for merging with a multi-family office, understanding the merger process and determining the essential steps for a successful merger.
"Some single-family offices are also becoming multi-family offices themselves," Linda Mack adds. "This allows them to share expenses and build a profitable platform with scale that will allow the business to attract and retain top talent. If a family office is too small, it can't afford to hire and retain the best and the brightest talent, nor have the resources to provide a top-quality service offering.
"Transitioning from a single-family to a multi-family office can provide the critical mass and scale to do these things," she adds, "but there are a number of critical factors that single-family offices need to carefully consider and plan before embarking on this path. These factors include the strategic business plan, the value proposition in the market, technology requirements, compliance, the investment platform, service offerings and fee structure."
Linda Mack also was a panelist for a discussion on succession planning and governance. The panel was moderated by conference chairman Bruno Miranda, managing partner of Mira Capital, and featured panelists Riccardo Taboaço, founding partner of TNA Gestão Patrimonial, and attorney Thomas Handler, partner and chairman of the Advanced Planning and Family Office Practice Group at Handler Thayer, LLP.
The panel discussed governance and succession best practices used by families in the global market, as well as the critical importance of effective governance and succession planning in sustaining the family and its legacy into future generations.
"Sustainability and succession planning are core issues for family offices, for they directly affect the longevity of the family office as well as the family's overall wealth," says Linda Mack. "Our panel discussion focused on reducing lifestyle costs to preserve wealth, managing finances to assist the office or business over generations, analyzing ownership succession, defining family objectives for wealth transition, and determining the family's core purpose and values.
"The session also explored the do's and don'ts of prosperous governance," she explains.
"We looked at identifying and implementing the best methods to build a favorable family office structure, setting financial goals, preserving privacy, determining when and how to outsource responsibilities and services, and assessing who should make decisions about the family's operations and who should implement them."
Summit attendees learned innovative strategies for enhancing their investment portfolios, as well as how to: select an investment manager to fit their business model; assess the benefits of a family office structure; manage family dynamics, resolve conflicts and plan for succession; build an optimal governance structure; optimize business processes to comply with federal regulations; and hone an investment strategy by learning from US-based and European-based family offices.
Mack International, LLC, headquartered in Chicago, is a global retained executive search and consulting firm serving clients in the family office/wealth management industry on a national and international basis. For more information, visit http://www.mackinternational.com or call 800.976.0015.
###