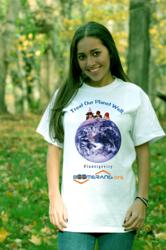 Armonk, NY (PRWEB) October 04, 2011
On September 25 two organizations came together to benefit a third. Entergy, the owners of the Indian Point Energy Center in Buchanan, teamed with Boomerang.org to distribute free Boomerang apparel to visitors at the Peekskill Rotary Horse Show. Boomerang's technology ties the cause on the apparel to a unique tag on the item. When those tags were scanned by ordinary cell phones, it triggered Entergy to make a $10 contribution to Friends of Westchester County Parks. The tags can also be used to give discounts, rewards and prizes to the wearer.
By the end of the day more than 300 shirts were distributed to visitors at the Peekskill Horse Show and over $3,000 will be contributed by Entergy to Friends of Westchester Parks for their environmental programs.
UPDATE: On October 9 Boomerang.org and Entergy will team up again to distribute even more free apparel to visitors at the Yorktown Festival & Street Fair (http://yorktownfestival.com).
How does it work?
1) Visit the Boomerang.org booth on October 9th.
2) Spin the Entergy Prize Wheel to Win a Boomerang shirt or other apparel with it's unique BoomTag on it.
3) Wear your shirt to the Entergy booth to have it scanned by a volunteer.
Each shirt scanned equals a $10 contribution by Entergy to Friends of Westchester County Parks, up to $20,000. Part of Entergy's ongoing commitment to helping our environment. Planetgevity™ is Boomerang.org's mission to extend the life and health of our planet.
So come on out to the Yorktown Festival & Street Fair to get your free shirt, get it scanned and watch the contributions to our parks add up throughout the day, or watch it all happen live at http://www.Boomerang.org.
About Boomerang.org
Boomerang.org is the charity gift that keeps on giving. It is a patented innovative charitable giving system which rewards charitable causes with every initial Boomerang apparel purchase, and then ongoing every time you wear the apparel and are scanned by a merchant or event partner. As all Boomerang apparel is personalized with distinct member bar-codes, purchases or visits result in further donations from our merchant partners as well as give back rewards and discounts to Boomerang members.
For further information about Boomerang.org contact:
Gene LaVigne or David Nichols
Boomerang.org
914-205-3279
Please visit http://www.Boomerang.org
# # #