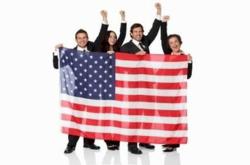 "The receptionist service Opus provides has always been staffed from within the U.S.A.. They need the jobs and it can be frustrating on the phone with an overseas representative if there's a language barrier." - Yori Galel, CEO, Opus Virtual Offices.
Boca Raton, FL (PRWEB) October 04, 2011
With the introduction of a new Senate bill that would require customer service representatives overseas working on behalf of U.S. businesses to reveal their physical location, Opus Virtual Offices' CEO, Yori Galel, is assuring businesses utilizing virtual office programs from Opus that their customers' calls are always answered in the U.S.A. by professional American receptionists.
"The receptionist service Opus provides to answer clients' business calls has always been staffed from within the United States. Americans need the jobs and I also know it can be frustrating to get on the phone with an overseas representative if there's a language barrier," explains Galel, who has over fifteen years of experience providing premium virtual office programs to small and mid-sized businesses. "And with this bill in the news I want to confirm our commitment to exclusive American staffing."
Opus defines a virtual office as a complete business system utilizing the latest technology to create a flexible online workplace eliminating the expense and inconvenience of a physical office. A virtual office enhances a business's image allowing it to compete with much larger companies.
A quality virtual office includes a corporate mailing address with local phone and fax numbers available in many cities nationwide and technology that converts faxes and voicemail to email. Home based businesses, as well as larger businesses wanting to add multiple low-cost branches within a region or across the country can benefit greatly. Opus offers virtual offices at $99 a month.
A highlight of the system is those efficient live receptionists answering calls during business hours. This personal and professional touch can mean increased customer satisfaction and sales. And this is where trained U.S. based, English as a first language, staffing shines.
It's important to note that Opus is also a proud supplier of virtual office systems to overseas businesses. When foreign businesses want to obtain valuable U.S. presence without impossible costs and logistics, they too can look to Opus VO because Opus works for them as well. What says U.S. presence better than calls answered by a courteous all-American person speaking colloquial English?
Opus Virtual Offices is available to provide more information and answer any questions.
http://www.opusvirtualoffices.com
###