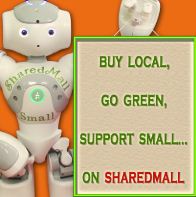 An online marketplace where an entire local community can come together to buy and sell goods and services from each other is a sustainable practice and will let our local businesses thrive
Beaverton, OR (PRWEB) October 11, 2011
Innovative new technology from Common People Services deviates from the current trend in online to offline retail to level the playing field for local businesses and create new job opportunities.
Current trends in social commerce and web-influenced retail show no signs of offering local businesses and consumers the traditional benefits of e-commerce. The threat is to local economies, since small businesses are considered the engines of job creation and local businesses are key to local economies. To level the playing field for local businesses, Common People Services, LLC (CPS) has introduced SharedMall.com.
"An online marketplace where an entire local community can come together to buy and sell goods and services from each other is a sustainable practice and will let our local businesses thrive," says mayor Denny Doyle of Beaverton, OR.
Disruptive to the current trend of web-influenced retail, SharedMall fully integrates local commerce into online e-commerce and enables local shopping online, 24x7. A schedule and location-sensitive online e-commerce marketplace that automates online orders for local pickup, delivery, appointments, reservations, and such.
Holiday season brings a steep increase in online spending. The disjoint nature of online e-commerce from local commerce has kept local businesses at bay during the holiday season. With the introduction of SharedMall as the most cost-effective online e-commerce solution, local businesses now have a fair chance at reining in online spending and being competitive online.
Steve Radtke, owner of Abundant Harvest Farms in North Plains, Oregon says, "My farm depends on the local community for sales, and SharedMall is an ideal solution for farmers like me to sell online and receive automated farm-direct pickup and delivery orders and appointments."
The current weakened state of the economy and the high unemployment rate are triggers for companies to act socially responsible. As if in testimony to the 'Occupy the Wall Street' movement, the revenue sharing model for SharedMall is modeled around economic equality. The socially responsible revenue sharing model opens up immediate job opportunities for the computer literate across the nation.
Common People Services, LLC was established in 2010 and is located in Hillsboro, Oregon. The company is founded on goodness and strives to earn a solid reputation as a leader in providing innovative and affordable solutions that matter to the common people across the nation.
###