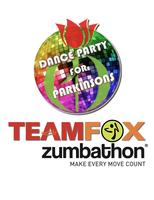 The goal of the event and the foundation is to raise money and awareness for the over six million people currently affected with Parkinson's Disease
Great Neck, NY (PRWEB) October 04, 2011
The successful fundraiser "Dance Party for Parkinson's" makes its way back to Long Island on October 23! The Michael J. Fox Foundation and local Team Fox members are asking Long Island Residents to Zumba the day away to raise funds and awareness for Parkinson's Disease. The event will, which will go from 1:00 p.m. – 4:00 p.m., will take place at Quartz Caterers in The Nassau County Bar Association Building. The event is open to the public and tickets are available in advance at http://www.dancepartyforparkinsons.com.
Nassau County residents and Team Fox members Beth Hochstein and Sharon Greif are thrilled to bring this event back to Long Island after the successful fundraiser held in May 1, 2011 which raised over $42,000 for The Michael J. Fox Foundation. The foundation is the recipient of a $50-million dollar challenge from Sergey Brin, co-founder of Google, and his wife Anne Wojcicki, co-founder of personal genetics company 23andMe, and will match all new and returning donations to the foundation.
The goal of the event and the foundation is to raise money and awareness for the over six million people currently affected with Parkinson's Disease and for future generations
The "Dance Party for Parkinson's" Zumbathon® will be a collaboration between Long Island's best Zumba instructors and Team Fox. In addition to a great workout, the event will have something for everyone including free massages from Reddy Care, yummy desserts, and beverages giveaways from the event sponsor, Fuze.
"We had such a great time in May at our first event, we wanted to continue the party," said event co-host Beth Hochstein. "Long Island residents came together to not only enjoy a great exercise class, but to help raise funds as a community. It was a truly inspirational day for a wonderful cause."
As part of her life and exercise routine to combat the symptoms of her early-onset Parkinson's disease, Beth has made Zumba a big part of her life. "Even if my medicine is not working 100%, once I begin a Zumba class, the symptoms seem to disappear," she says. Beth also teaches a Parkinson's Disease dance class in Manhasset to help other people living with the disease.
For ticket sales for the upcoming Zumbathon® and information about past events visit http://www.dancepartyforparkinsons.com or contact Beth Hochstein at 516-369-0642
The Basics/Calendar Listings
Dance Party for Parkinson's
October 23, 1:00 p.m – 4:00 p.m.
Quartz Caterers in The Nassau County Bar Association Building, 15 and West Streets, Mineola
The event is open to the public and tickets are available in advance at http://www.dancepartyforparkinsons.com.
Price: $25.00 with 100 % of ticket sales going to The Michael J. Fox Foundation
###