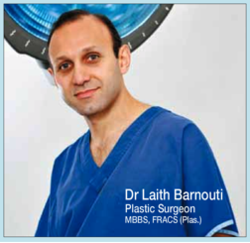 the whole point to performing plastic surgery is to make our clients look normal and natural, like they never even had the surgeries done. The emphasis is on not making the breasts look augmented, but rather completely natural
Sydney, AU (PRWEB) October 05, 2011
Australia Plastic Surgery's Lead Surgeon Dr. Laith Barnouti is urging practitioners to put more emphasis on achieving natural-looking results for plastic surgery patients, responding to an MSNBC report that indicated more doctors have taken on plastic surgery to get through stiff economic conditions.
The report cited a patient's complaint about a botched surgical procedure in the hands of "an unskilled doctor" – a breast augmentation procedure that resulted in what professionals called a case of "symmastia," which made the patient's breasts look nothing like normal, natural breasts.
"This reaffirms my sentiment," Dr. Barnouti says, adding that "the whole point to performing plastic surgery is to make our clients look normal and natural, like they never even had the surgeries done. The emphasis is on not making the breasts look augmented, but rather completely natural."
Dr. Barnouti has handled over a thousand plastic surgery cases in his practice, all of them done so following the basic principle of recapturing the body's natural, unaltered physical state, he said.
His advice to emerging plastic surgeons is for them to "take the time to find out what would best suit the patients' physique, giving ample consideration to their health, lifestyle and all other equally important details that could affect the plastic surgery results in the long run."
Dr. Barnouti also encourages everyone to stay in-the-know and to entrust their breast augmentation, rhinoplasty and other plastic surgery concerns only with professionals to get the job done right. Dr. Barnouti and his Australia Plastic Surgery team have vowed to maintain high quality standards through their emphasis on key treatment aspects involving pre-operative education, intra-operative technique, and post-operative comfort.
As one of Australia's pre-eminent plastic surgery facilities, Australia Plastic Surgery focuses on quality advanced cosmetic plastic surgery. With the system it employs, each patient can expect to get a thorough workup and examination experience from both the team of experts themselves and their staff.
"We make sure that our patients are well informed and ready by walking them through each step of the process, even going as far as explaining the highly technical aspects of our advanced methods. Australia Plastic Surgery follows this approach not only because it helps in getting the job done," Dr. Barnouti claims, "but mainly because it is the natural thing to do – to talk it out and sort things out – it's pretty basic."
About Australia Plastic Surgery
The Australia Plastic Surgery facility focuses on quality advanced cosmetic plastic surgery, with due emphases on pre-operative education, intra-operative technique, and post-operative comfort. Central to this idea is the treatment of the patient as an individual, tailoring care to the patient's particular needs.
At Australia Plastic Surgery, thorough examination, including a medical history, is utilized to optimize the patient's outcome. Realistic expectations are discussed, with in-depth conversation about options, risks, and benefits for each procedure considered. Careful time and thought is encouraged before deciding about or undergoing any surgical procedure.
For more information about Australia Plastic Surgery, visit http://www.australiaplasticsurgery.com.au
###