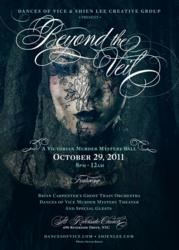 "Shien Lee, Producer of Dances of Vice, Presides Over Peripatetic Costume Parties in New York"
- New York Times
New York, NY (PRWEB) October 06, 2011
Dress to kill for New York's most anticipated Halloween event of the season -- "Beyond the Veil: A Victorian Murder Mystery" -- produced by Dances of Vice and Shien Lee Creative Group, hailed by the New York Times as New York's premier event production agency for over-the-top costume parties and anachronistic productions.
For one unforgettable night, adventurous audiences are invited to take part in a thrilling, large-scale interactive murder mystery game with the Dances of Vice Murder Mystery Theater beneath the majestic Neo-Gothic arches of Riverside Church.
Decadent nighttime revelers clad in dramatic Victorian and Jazz Age finery gear up to dance the night away to the murder ballads and hot jazz syncopations of Brian Carpenter's Ghost Train Orchestra, featuring dazzling live performances by burlesque vixens Medianoche, The Flying Fox, Ms Tickle, and the Strictly Tango Dance Company.
Premise: The year is 1901, and guests from around the world flock to Riverside Church to see the latest opera "L'ultimo Bacio", starring the venerable Italian opera diva Comtessa Valentina Badalamenti. You are among the invitees to this exclusive performance, but upon arriving, you find yourself witness to a very different show altogether…
Tickets and info: http://www.dancesofvice.com
Riverside Church | 490 Riverside Drive, New York, NY 10027
ABOUT DANCES OF VICE:
The creation of Shien Lee, Dances of Vice is a New York nightlife sensation which attracts a decadent menagerie of aesthetes and dreamers who gather in shared enthusiasm for the music, fashion, culture, and beauty of times forgotten. Dances of Vice incorporates a myriad of anachronistic influences in Dadaistic celebration of the liberating effects of beauty, fantasy and surrealism.
Dances of Vice is frequently seen in the New York Times, MTV News, NBC, SPIN Magazine, New York Post, Wall Street Journal, among other media both international and nationwide.
http://www.dancesofvice.com
http://www.shienlee.com
# # #