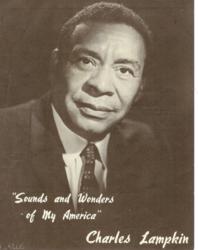 We offer these poems in the hope that you will become a friend, or greater friend, of the thoughts of poets, lost in the prisms of words.
New York, New York (PRWEB) October 06, 2011
The Charles Lampkin Memorial Foundation and Award Site http://www.charleslampkin.org for the promotion of visual and performing arts, in particular Jazz and Spoken Word; cultural literacy, the education of the young, the promotion of real music and a return to academic excellence.
Herein lies the remarkable story of Charles Lampkin (1913-1989), an African-American pioneer of Spoken Word, radio broadcasting and multi-cultural education in California. Starred in the first Atomic doomsday movie, 5IVE, produced by Arch Oboler in 1951. Nominated for an Academy Award and membership in the Smithsonian Institution. Composed a piano concerto before 1955. An inspiring biography suitable for film adaptation and documentary.
###