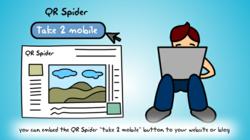 One of the best tools for web I have ever used.

- Frank Faalco, Owner, Lab Discount Club
New York, NY (PRWEB) October 05, 2011
QR Code, also known as quick response code, is a unique, two-dimensional barcode that has become popular of late for its potential to hold large amounts of information and to be easily printed and scanned. QR codes currently appear on product packaging, signage, printed advertisements and other pivotal marketing materials, allowing those who use a QR code decoder on a smart phone to quickly read a substantial amount of information about a given subject. The new venture by Cuebrix, QRSpider.com, allows blog sites, small businesses websites, e-commerece sites etc. to become, "mobile aware", by providing a stylish QRSpider button for those websites. QRSpider button can display the QR Code to enables the portability of the site from a computer screen to a mobile device, such as a Smartphone or tablet computer.
While the use of QR code has been traditionally limited to print media for scanning printed information such as ads, offers and promotions, URLs, contact information, and the like to mobile devices, a "Take 2 Mobile" button from QRSpider helps to unleash the power of QR code for the web as well. With QRSpider, a simple-to-use QR code generator becomes a tool for website owners and bloggers so that they can dynamically generate QR codes for their websites easily, without the use of complicated and expensive coding. In fact, it takes less than two minutes to integrate a QR code into an existing website with the QRSpider code generator. QRSpider.com is offered as free service to its users.
Once a page is enabled with QRSpider, any website visitor can send the page he or she is viewing from a computer screen directly to his or her Smartphone or tablet, making it instantly portable. Adding a QR code to a website gives blog and business site owners a new avenue for increasing their sites' traffic on smart phones and tablet devices, along with increasing overall site visibility and usage.
The new QRSpider tool can be found at http://www.qrspider.com, along with detailed instructions for users who wish to generate code for use on their websites.
To learn more about Cuebrix's line of internet marketing tools and how they can benefit your business, visit http://www.cuebrix.com today.
###