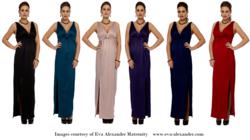 Without a doubt maternity wear has come a long way in the last 10 years
london,UK (PRWEB UK) 6 October 2011
Dressing for special occasions while pregnant can be daunting. Women want to be beautiful, sexy, sophisticated, glamorous, and for good measure let's throw-in jaw-droppingly gorgeous as well. But pregnancy brings with it a new body and a new look. Opening the closet, throwing on that classic little black dress with the Christian Louboutin's and running out the door just isn't an option anymore.
Fortunately, there are now a number of maternity design houses creating gorgeous designer maternity wear in innovative styles and beautiful fabrics inspired by this season's catwalk. These maternity dresses will turn heads with every step. Designed to create stunning, figure flattering and sexy silhouettes in the first, second and third trimester's, evening maternity wear has never looked so good.
Understanding that women want to look and feel beautiful when going out, formal maternity dresses are no longer just made out of viscose or cotton T-shirt material, but out of silks, satins, sequins and other creative combinations of luxury fabrics in rich eye-catching colour palettes to celebrate the holidays and special occasions. For this holiday season it's the jewel tones that everyone will want to be seen in!
When looking for maternity dress clothes a woman should embrace her new curves and look for features that will highlight her new attributes. Empire waists create a sexy feminine silhouette and low necklines accentuate her new cleavage particularily for an evening maternity dress. For women who naturally have a fuller figure, a soft v-neck can be a more slimming look by drawing the eye to the centre of her body. Women who are looking to show off their new bump should look for a well designed ruched dress. These dresses are perfect for creating a sexy feminine silhouette that accentuates a woman's new curves in all the right places.
There is something about being pregnant that makes a woman want a bit more colour in her wardrobe. When looking for a touch of colour but versatility is a necessity, a good maternity wrap dress can be worn throughout a pregnancy and for many years thereafter. A maternity wrap dress will always be flattering on naturally curvy women and women with a little extra on the tummy because the empire waist emphasises the smallest part of the torso while draping over the tummy to create an attractive and slimming look.
For women who prefer a smart classic style should look for more tailored dresses that exude subtle sophistication and elegance.
Some women fall pregnant and hit both the wedding and holiday seasons bang on. With more invites than maternity dresses in the closet, its best to look for dresses that have more versatility and can be dressed-up or down. Even in maternity the little black dress that can be taken everywhere effortlessly by pairing it with a few key accessories to create a variety of gorgeous styles.
Make sure when choosing a dress that the type of fabric is considered. Viscose and cotton jerseys typically don't wear well and often look cheap. If this dress is meant to be worn anywhere and everywhere, quality is key, so it's worth it to upgrade and get a dress in a fluid woven material that is non-static and non-piling or a nylon jersey that will typically wash and wear well.
Without a doubt maternity wear has come a long way in the last 10 years. The new maternity design houses are now bringing the fashion trends to maternity wear and combining them with clever designs, luxurious fabrics and a high standard of quality and workmanship. Every woman can now have stylish maternity clothing and be beautiful at every stage.
###