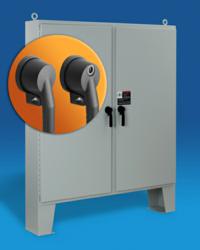 "By expanding the A4L3 line to include 18-in. deep models, Hoffman continues to serve as an industry leader in both technology and breadth of offering."
Anoka, MN (PRWEB) October 06, 2011
Pentair Technical Products announces the addition of four new 18-in. deep models to their Hoffman Two-Door, Floor-Mount Type 4 Enclosures, Bulletin Number A4L3. With the addition of the new models, the line includes solutions for an even wider range of applications. Featuring a UL Type 4 rating, these enclosures are ideal for use in indoor or outdoor environments where it is necessary to protect controls and instrumentation from wet, potentially corrosive environments.
A4L3 enclosures utilize the Hoffman™ POWERGLIDE™ Handle with three-point latching for secure closure. The latching system provides sufficient compression to meet UL Type 4 requirements without the use of quarter-turn latching, offering security as well as easy and quick access.
"By expanding the A4L3 line to include 18-in. deep models, Hoffman continues to serve as an industry leader in both technology and breadth of offering," said Garrett Potvin, Product Manager for Pentair Technical Products. "While many alternative solutions rely on the combination of a three-point latching system and quarter-turn latches to achieve sufficient compression, the Hoffman models eliminate the quarter-turn latches, increasing ease-of-use while maintaining the UL rating."
The four new models are available in the following sizes:
62.06 x 48.06 x 18.06 in.
62.06 x 60.06 x 18.06 in.
74.06 x 60.06 x 18.06 in.
74.06 x 72.06 x 18.06 in.
Additional features of A4L3 enclosures include a flange trough collar around the door opening to exclude liquids and contaminants. Plus, a removable center post permits easy back panel installation. For modification and customization options, customers can contact a Hoffman representative.
About Pentair Technical Products
Pentair Technical Products, a Pentair global business unit, is a leading provider of worldwide product and service solutions for enclosing, protecting and cooling electrical and electronic systems. Its industry-leading brands—Hoffman™, Schroff™ and McLean™ Cooling Technology—provide a broad variety of standard, modified and engineered solutions to the commercial, communications, energy, general electronics, industrial, infrastructure, medical, and security and defense markets.
For more information, visit http://www.hoffmanonline.com or contact Pentair Technical Products at 2100 Hoffman Way, Anoka, MN 55303.
About Pentair, Inc.
Pentair (http://www.pentair.com) is a global diversified industrial company headquartered in Minneapolis, Minnesota. Its Water Group is a global leader in providing innovative products and systems used worldwide in the movement, treatment, storage and enjoyment of water. Pentair's Technical Products Group is a leader in the global enclosures and thermal management markets, designing and manufacturing thermal management products and standard, modified, and custom enclosures that protect sensitive electronics and the people that use them. With 2010 revenues of $3.0 billion, Pentair employs over 15,000 people worldwide.
Media Contact: Jaclyn Larson (Next Communications). Phone: 952-934-8220. Email: jaclynl(at)nextcom(dot)com.
Pres-00091
###