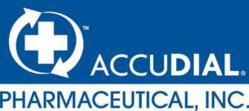 "In the past thirteen years hundreds of millions of Spinformation® labels have been used on a wide range of products," said Stephen Key. "
Palm Beach Gardens, Fla. (PRWEB) October 04, 2011
Accudial Pharmaceutical®, Inc. has acquired Stephen Key Design, LLC. This acquisition expands AccuDial's patent portfolio to over fifty patents for weight based dosing and other extended content rotating labels (ECRL), which adds 75% more labeling space to a container.
"Stephen Key founded the company in 1998 and is a recognized leader in the $63 billion label industry. He will remain at the helm of Stephen Key Design, LLC and continue as a member of AccuDial's Board of Directors," said Bob Terwilliger Chairman and CEO of Accudial Pharmaceutical®.
"In the past thirteen years hundreds of millions of Spinformation® labels have been used on a wide range of products," said Stephen Key. "Spinformation® labels have been used on Rexall Sundown Vitamins, Children's AccuDial pediatric liquid medicines, and Kirkwood Brand products, to name just a few. Spinformation® has partnerships with a number of packaging industry leaders."
Stephen Key will focus with AccuDial on pharmaceutical applications for prescription, over-the-counter, nutritional supplements, injectable vials and vitamins. In addition, Stephen will work with Spinformation® partners to achieve even greater success in the beverage, fruit drink, food industry and other commercial applications.
In addition to weight based dosing, AccuDial's ECRL can be used for PRODUCT LAUNCHES to notify consumers about a new or improved product; DISCOUNT COUPONS on the inner label; QUICK READER (QR) codes can lead consumers to a company's Twitter, Facebook, LinkedIn, YouTube, Flickr, Plaxo, Yelp, FourSquare, Digg, Delicious, StumbleUpon, Whrrl, and MySpace profiles; EASY TO READ TEXT using large font; MULTI-LANGUAGE on the inner label providing directions for multiple markets; ILLUSTRATIONS like Barrier Grid animation to illustrate conditions such as a throbbing pain in the shoulder or lower back; DAILY DOSE and PROGRESS TRACKING for medicine taken multiple times per day.
Beginning October 17, 2011 Children's AccuDial Acetaminophen for Pain & Fever with weight based dosing will be available at Amazon.com, and a number of leading internet drugstore sites. Children's AccuDial Acetaminophen for Pain & Fever will be available in five flavors: cherry, dye-free cherry, bubblegum, strawberry and grape for children between 12 and 95 pounds.
About Accudial Pharmaceutical, Inc.
Accudial Pharmaceutical, Inc. is positioned to change the way medications will be dosed globally. It is the only brand with a patented rotating weight-based dosing system designed to administer over-the-counter medications safely and effectively. Children's AccuDial® is a family of eight analgesic, allergy, cough and cold pediatric medications available in more than 4,300 pharmacies and stores throughout Canada. Children's AccuDial® was recognized as the 2011 Product of the Year Canada in consumer drug packaging, and voted "consumer's choice" for new product innovation. In April, 2011 Children's AccuDial® won The Edison Award in the Consumer Packaged Goods category, The Seal of Approval from PTPA Media Inc. and The Frost & Sullivan New Product Innovation Award for Pediatric Dosing. For up to date information about AccuDial, follow us on Facebook at http://www.facebook.com/AccuDialPharmaceutical and Twitter at http://www.twitter.com/AccuDial. For more information about AccuDial®, visit accuratedose.com or call 561.429.6886.
About Stephen Key Design, LLC..
Stephen Key Design, LLC., is a licensing company specializing in Spinformation® rotating label technology with specific regard to the packaged goods industry. The rotating label adds 75% more labeling space to a container. The rotating label is offered in a variety of label technologies such as Pressure Sensitive (PS), Cut & Stack, Roll Fed, Shrink Sleeve and Stretch Sleeve. Spinformation awards include TLMI Awards Innovation Winner in Technical Achievement, Pyramid Awards, Award of Excellence in Film Labeling, Food & Drug Packaging News, PACKAGE OF THE YEAR, World Label Association, INNOVATION AWARD, and IOPP AmeriStar Awards, Best of Category (Pharmacy).
The information contained in this press release includes "forward-looking statements." All statements other than statements of historical facts included in this press release, including Accudial Pharmaceutical Inc.'s prospects, plans, financial position, and business strategy, may constitute forward-looking statements. These statements are based on the beliefs and assumptions of our management and on the information currently available to our management at the time of such statements. Forward-looking statements generally can be identified by the words "believes," "expects," "anticipates," "intends," "plans," "estimates," or similar expressions that indicate future events and trends. Although the company believes that the expectations reflected in these forward-looking statements are reasonable, the company can give no assurance that these expectations will prove to be correct, and the company's actual results may differ significantly from the results discussed in these forward-looking statements. The company undertakes no obligation to publicly update or revise any forward-looking statements, whether as the result of new information, future events, or otherwise.
###