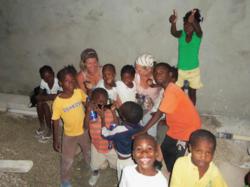 CAN-DO.org goes anywhere in the world and does whatever it takes to get the job done!
Los Angeles and Port Au Prince, Haiti (PRWEB) October 05, 2011
CAN-DO(Compassion into Action Network Direct Outcome Organization) returns to Haiti September 30-October 8, 2011 to continue its ongoing Orphanage Revitalization Project.
CAN-DO initiated relief efforts days following the January 2010 earthquake and has distributed medical supplies, food and over 800 thousand gallons of purified water, implemented several projects and initiatives that provide aid, services and support that benefit communities in great need.
This return to Haiti marks the more than 15 visits by CAN-DO since the devastating earthquake. In the past 18 months CAN-DO has provided both short- and long-term relief to Haitian residents.
Through its Community Revitalization Project, CAN-DO along with local collaborators including Haitian governmental organizations and other grass roots organizations, has erected five cost-efficient, multi-purpose dome structures that are currently being used as medical/birthing clinics by J/P HRO, Vermont Medical Response Teams, Haiti Clinic and as a school in Croix de Bouquets. In addition, CAN-DO also built a second structure on the J/P HRO Camp that is made of an innovative Styrofoam and cement/fiberglass composite.
"We were distressed at the state of the orphanages; it was beyond troubling. Many were without basic needs like secure shelter and decent plumbing. We were compelled to help these children in a long-term, meaningful way," offered Klein.
The "Orphanage Revitalization Project" is an ongoing initiative for CAN_DO and follows the early relief efforts that helped Patience Orphanage with food and supplies. Patience was the first orphanage to benefit from this ongoing project.
The Bless A Child Orphanage is located in Chateau Blond, Haiti and provides full-time care for the emotional, physical and educational development for approximately 30 children ages 4 to 14. During the forthcoming trip and Project Bless A Child, CAN-DO will: Revitalize, refurbish and work to improve the lives of the children at Bless A Child.
*Install a new well to provide fresh, clean water
*Update electrical wiring and plumbing to ensure consistent lighting and electricity that will provide improved cooking and bathing conditions
*Reinforce physical structures and refurbish interiors
*Outdoor landscaping for children's use and plant a garden to provide an ongoing food source
Beyond the physical improvements, the Orphanage Revitalization Project also will help establish programs and sponsorships to provide the children at Bless A Child basic needs including vaccinations, supplies and ongoing education.
"Helping the people of Haiti – especially the children – is as important and much needed today as it was immediately following the 2010 earthquake. We committed then to helping Haiti's children and are following through on our commitment by working to improve the Bless a Child orphanage," stated Eric Klein, Founder, CAN-DO.
Supporters can help CAN-DO carry on its work in Haiti through online and mobile donations. Text "CANDO" to 85944 to donate $10, remember to respond, "YES" or visit "https://secure.can-do.org/" to donate online. Stay tuned to SEE the IMPACT of YOUR donations by visiting the CAN-DO blog.
About CAN-DO
Compassion into Action Network – Direct Outcome Organization is dedicated to providing lasting solutions critical problems across the world, from natural disasters to environmental degradation, humanitarian crises to educational inequity.
CAN-DO is committed to getting aid to the people who need it in a timely and transparent manner that maximizes the impact of the aid and services provided while allowing its supporting donors to see the impact that their aid is having. We go anywhere in the world and do whatever it takes to get the job done.
###