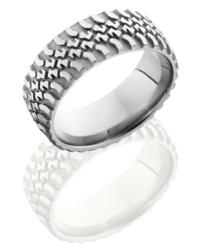 Our carbon fiber rings evoke that sense of flexibility, speed, and power
Linden, MI (PRWEB) October 06, 2011
Detroit area jewelry designer Kevin Begola announced today the opening of Shakedownjewelry.com a motorsports-driven online store that specializes in high-impact carbon fiber rings and other extreme jewelry. Building on the success of Begola's first store, Titanium-Buzz, Shakedown Jewelry will unleash exclusive collections of intense carbon fiber rings for men, black zirconium rings, titanium rings, one-of-a-kind tread rings, and more.
"I grew up in the muscle car culture of Detroit, and I wanted to make a home for in-your-face rings and jewelry that gear heads and motorsports fans like me could be proud of," Begola said. "Shakedown Jewelry is where we get to show off our expertise in materials and designs inspired by the American automotive industry. There's nowhere else like it."
Begola noted the website is broken into sections that are devoted to different materials and styles centered on an automotive theme. Begola's carbon fiber rings,for instance, showcase the properties and unique look of carbon fiber, a material that is also used to build high speed race cars.
"Carbon fiber is lightweight, almost indestructible, and it's why we have the cars we do today," Begola said. "Our carbon fiber rings evoke that sense of flexibility, speed, and power."
Other collections include energetic titanium and carbon fiber hybrids as well as black zirconium rings that boast edgy designs and inky-dark finishes. Begola has also introduced a signature collection of tread rings, with pieces that have been precision-carved into three-dimensional recreations of aggressive tire tread patterns.
"The level of texture and detail on the tread rings is just sick," Begola said. "We took a take-no-prisoners approach to that collection that really captures what Shakedown Jewelry is all about."
"I've been working around cars my whole life, and the Motor City is part of my family's heritage," Begola said of his store's focus. He added, "There's a certain attitude out here that we convey in each of our ring designs. They're about quality, comfort, and style, but they're also about finding the cutting edge and taking pride in who you are."
"Even our name reflects that. In motorsports the shakedown is a test where you really learn the capabilities of a machine, and it's where the best innovations happen," Begola said. "That's what we're trying to bring to our customers."
Begola, whose office is located just south of Flint and a little over an hour to the northwest of Detroit, said he plans to expand the core Shakedown Jewelry collection to include additional varieties of jewelry. He also wants to add more ring styles, including a special selection that will appeal to women, but said he will always remain true to the legacy of the region.
He concluded, "We're always going to find ways to push the envelope, but we're also grounded by who we are, where we come from. I want Shakedown Jewelry to be the sort of store people like me always hoped to find. We're going to grow right alongside our customers."
About Ring Designer Kevin Begola:
Kevin Begola was inspired to start designing and selling alternative metal jewelry in 2005 while shopping for a wedding band. He has spent the past six years changing perceptions about what jewelry, particularly wedding rings, can be. After founding the popular independent retailer site, Titanium-Buzz, he became interested in exploring ring designs that authentically reflect the lifestyles of the wearer. Shakedown Jewelry, with its roots in the automobile culture of eastern Michigan, evolved from that interest. Every ring at Shakedown Jewelry is custom made for each customer.
###