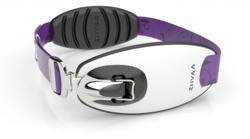 "This is truly a powerful thing to be a part of," says Lee. "Everyday I see how Ziivaa helps more and more women."
Sarasota, FL (PRWEB) October 05, 2011
Dr. Stephen Lee and ROBRADY design have teamed up to bring the Ziivaa™ menstrual discomfort relief belt to the world. The Ziivaa™ belt uses Adjustable Compression Technology™ to solve the age-old problem of menstrual cramping and discomfort. The device is a non-invasive, drug-free solution that works in just minutes. "This is truly a powerful thing to be a part of," says Lee. "Everyday I see how Ziivaa helps more and more women."
For generations women have struggled to find relief from the adverse effects of their menstrual cycle. The range and degree of debilitation varies, but for many women this can effect their employment, family, social and athletic aspirations. Ziivaa's mission is to help women worldwide live a life without the menstrual pain roadblock.
The inventor of the Ziivaa™ belt is Dr. Stephen Lee, founder of Lee Chiropractic and Chiropractor to the MacDill Air Force Base. Dr. Lee graduated from Auburn University with a Bachelor of Science degree and graduated with honors from Life University in Marietta, GA. Dr. Lee first introduced the concept for this product in his practice in 2003. Satisfied with the results, he approached the internationally renowned design studio ROBRADY design to be the product's development partner.
ROBRADY design, founded by Robert Brady, is a multi-disciplinary product design and development studio. The studio creates a comprehensive speed-to-market plan by identifying the greatest areas of opportunity and producing profitable product solutions to its clients. Firmly convinced of Ziivaa's commercial and consumer potential, Robert Brady decided to make the venture a cornerstone of the newly formed ROBRADY capital division.
Other key team members include Kristen Nichols as Chief Operations Officer and Shimi Shah as Executive Director.
Ziivaa™ is currently taking pre-orders and will begin shipping in just a few short weeks. Visit http://www.ziivaa.com for more information.
###