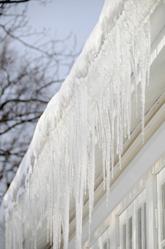 "Early preparation is key to helping prevent ice dams. The best time to prevent an ice dam is before winter arrives."
Lincoln, RI (PRWEB) October 04, 2011
With winter fast approaching, now is the time to take action to prevent the type of ice dams that caused tremendous damage – and resulted in expensive repairs – for many homeowners last year.
"Ice dams that form along your roof can cause major damage," said Sean Welch, a senior assistant vice president with Amica Insurance. "As ice builds up, it prevents water from melted snow and ice from draining off the roof, so the water leaks into your house and goes under your roof and inside your home, causing costly damage to walls, ceilings and insulation."
But there are steps homeowners can take now to help prevent ice dams, said Remington Brown, senior engineering manager at the Insurance Institute for Business and Home Safety.
Amica and the Insurance Institute for Business and Home Safety offer these tips:

Make sure the ceiling is airtight, so warm, moist air doesn't flow into the attic space.
Increase ceiling and roof insulation to minimize the amount of heat that rises into the attic.
Use weather-stripping around entryways to the attic.
Seal around attic ducts, light fixtures, chimneys and fans to prevent heat from melting snow.
Make sure the attic is well ventilated so that any warm air is replaced with cold outside air.
Clean debris from gutters and drains to allow for proper drainage.
"Proper insulation and roof ventilation can help prevent ice dams from forming, helping protect homes from damage – while also helping to reduce energy bills," Welch said.
Anyone building a new home or re-roofing an existing one also should install protective membranes under the roof covering, to help prevent water from leaking through, Brown said. These are watertight barriers that extend from the lower edge of the roof up the slope at least 24 inches past the exterior wall line. This protective layer is often required by building code for new homes and re-roofing in areas where ice dams are known to occur.
"Early preparation is key to help preventing ice dams," Brown said. "The best time to prevent an ice dam is before winter arrives."
About Amica Mutual Insurance
Amica Mutual Insurance Company, the nation's oldest mutual insurer of automobiles, was founded in 1907. The company, with corporate headquarters in Lincoln, RI, is a national writer of automobile, homeowners, marine and personal umbrella liability insurance. Life coverage is available through Amica Life Insurance Company, a wholly owned subsidiary. Amica employs more than 3,200 people in 40 offices across the country.
CONTACT: Vince Burks, Corporate Communications, 50 Amica Way, Lincoln, RI 02865-1155, 1-800-652-6422, ext. 24563.
Website: Amica.com
Twitter: Amica Insurance
Facebook: Amica Mutual Insurance Co.
###