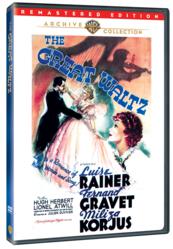 Philadelphia, PA (PRWEB) October 11, 2011
The Great Waltz: Fernand Gravet plays Johann Strauss II—nicknamed "Schani"—a bank clerk in Vienna in 1845 whose obsession with waltzes inspires him to organize an orchestra. Soon, with help from some opera singers, Strauss's music gains a following and he becomes the toast of Vienna. At the same time, Strauss, married to Poldi Vogelholder (Luise Rainer) carries on an affair with Hungarian opera singer Carla Donner (played by real-life opera star Miliza Korjus).
The Great Waltz (1938) features samples of such legendary Johann Strauss music as "The Blue Danube Waltz," "Tales from the Vienna Woods" and "Die Fledermas," which features lyrics by Oscar Hammerstein II. In addition, the top-notch supporting cast includes Hugh Herbert, Lionel Atwill and Henry Hull. The director is Julien Duvivier (Pepe Le Moko, Anna Karenina) and the film won the Academy Award for Best Cinematography and was also nominated for Best Film Editing and Best Supporting Actress (Milizia Korjis).
The Great Waltz is being released through Movies Unlimited the same day as Rhapsody in Blue, the George Gershwin biography, which also sells for $19.99. Both movies are remastered editions.
Movies Unlimited is one of the world's leading DVD and Blu-ray retailers. The Philadelphia-based company publishes the annual Movies Unlimited DVD Catalog and sells films through it's website moviesunlimited.com. The company also publishes the Turner Classic Movies DVD Catalog. The company offers over 70,000 titles which are available by contacting Movies Unlimited by calling 1-800-4-MOVIES.
# # #