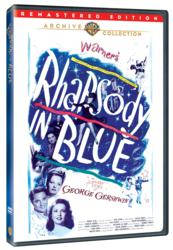 (PRWEB) October 06, 2011
George Gershwin's incredible life and classic music are the focus of Rhapsody in Blue, a new exclusive release from Movies Unlimited, the country's oldest video retail outfit. The film will be issued at a retail price of $19.99 on November 8, 2011.
Rhapsody in Blue (1945) stars Robert Alda as the Brooklyn-born George Gershwin, who we witness rise from piano player in a vaudeville theater to song composer to creator of such landmark works as "An American in Paris" and "Porgy and Bess." Along the way, we discover that George is a driven man with little time to settle down despite romantic interest from singer Julie Adams (Joan Leslie) and painter Christine Gilbert (Alexis Smith). We also meet the many people who had important roles in Gershwin's life over the years, including his brother and collaborator Ira (Herbert Rudley) and, playing themselves, Al Jolson, Oscar Levant, Paul Whiteman and George White.
Directed by Irving Rapper (Now, Voyager), Rhapsody in Blue offers a treasure trove of Gershwin songs. Among those featured are "Embraceable You," "I Got Rhythm," "It Ain't Necessarily So," "Mine," "Someone to Watch Over Me" and "S'Wonderful."
Also released on DVD from Movies Unlimited the same day as Rhapsody in Blue will be The Great Waltz (1938) starring Fernand Gravet. Both movies are remastered editions.
Movies Unlimited is one of the world's leading DVD and Blu-ray retailers. The Philadelphia-based company publishes the annual Movies Unlimited DVD Catalog and sells films through their website moviesunlimited.com. The company offers over 70,000 titles which are available by contacting Movies Unlimited by calling 1-800-4-MOVIES.
###