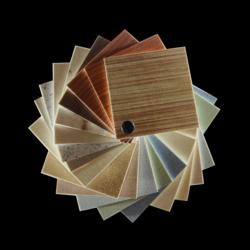 Joliet, IL (PRWEB) October 06, 2011
Crane Composites, Inc., an American manufacturer of Fiberglass Reinforced Plastic (FRP) wall panels has expanded their Innovative Finishes line of architectural panels with a new collection of over 20 sophisticated colors and textures called DESIGNS.
Crane Composites FRP panels provide building owners and managers with the durability, cleanliness and moisture resistance needed in high-traffic areas such as schools, cafeterias, restaurants, retail and grocery, hospitals and more.
"The DESIGNS collection was created in response to the marketplace demand from architects and interior designers wanting a wider range of FRP panels in elegant and restful color tones and organic textures", according to Kelly Erdmann, Vice President of Building Products at Crane.
Bamboo, Canvas, Terrazzo, Timber, and Stone are but a few selections in the line, all with complementary moldings for seamless and moisture-resistant installations. Other naturalistic textures such as linen and sandstone textures are available in the Innovative Finishes line.
As with all of the Innovative Finishes line of products, the DESIGNS collection is GREENGUARD certified, meaning it meets or exceeds the GREENGUARD Environmental Institute (GEI) Indoor Air Quality Certification Program, and the even more stringent requirements of the GREENGUARD Children & Schools Certification Program.
To view completed installations using products from the new DESIGNS collection go to:
http://www.cranecomposites.com/_pdfs/DESIGNS/index.html
To view swatches of Crane panel colors and finishes, and to order samples, go to: http://www.cranecomposites.com/industries/bp/innovativefinishes.html
About Crane Composites
Crane Composites is the manufacturer of Glasbord, Sequentia, Sanigrid II and a variety of other fiberglass reinforced plastic (FRP) composite panels. Inspired by the Kemlite tradition, Crane Composites has over 55 years of experience in Building Products and is the recognized industry leader in FRP applications. Crane Composites is a Crane Co Company.
Resources and More Information
GREENGUARD Certification is broadly recognized and accepted by a number of "Green" building programs, including the United States Green Building Council's (USGBC) LEED® Green Building Rating System. The not-for-profit GREENGUARD Environmental Institute (GEI) is an ANSI Authorized Standards Developer, establishing acceptable indoor standards for indoor products environments and buildings.
GREENGUARD Children & Schools Certification Program
For products intended for use in schools, daycares or other environments where children spend significant periods of time, the GREENGUARD Children & Schools Certification ProgramSM offers stricter certification criteria. It is referenced by both The Collaborative for High Performance Schools (CHPS) and the Leadership in Energy and Environmental Design (LEED) Building Rating System. Products certified to this standard are also suitable for use in environments where children and others work, play or reside.
Contact:
Crane Composites, Inc.
http://www.frp.com
Mindy Ivanov, Marketing Manager
815.467.8951
23525 West Eames Street
Phone: 800.435.0080 Fax: 815.467.8666
Email: salesbp(at)cranecomposites(dot)com
###