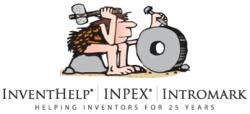 Pittsburgh, PA (PRWEB) October 07, 2011
InventHelp®, America's largest inventor service company, announces that one of its clients, an inventor from New Jersey, has designed a boot and shoe removal aid to make removing wet and dirty shoes or boots easy. This invention is patented and a prototype is available.
The "E Z Boot Remover" would make it easy to take off boots and shoes, and could help the user to maintain balance when taking off shoes or boots. The invention would save time and effort, and could reduce the risk of falling while taking off shoes. The product would help to keep an individual's feet dry, and would feature a lightweight, portable design. Ideal for use indoors or outdoors, the E Z Boot Remover would remove all types of boots, including chest waders, hunting boots snow boots or shoes.
Produced from plastic or wood, the rectangular unit would feature two U-shaped cutout sections at the top. Located on the underside of the device are two side braces as well as a horizontal side brace on the upper portion so that the unit would lie flat on the ground or floor. The user would stand on the platform with the U-shaped cutouts in front of their feet, and then place their right heel into the cutout. When the heel is brought all of the way back, the user would use the platform as leverage to pull the foot easily out of the boot or shoe. To prevent socks from getting dirty or wet, the individual could place the right foot on the platform while repeating the same steps for the left foot.
InventHelp® is attempting to submit the invention to companies for review. If substantial interest is expressed, the company will attempt to negotiate for a sale or royalties for the inventor. For more information, telephone Dept. 08-NWK-5164 at (800) 851-6030. Manufacturers interested in reviewing additional inventions and new product ideas can contact InventHelp's marketing partner Intromark by filling out an online request to review new product ideas here.
# # #