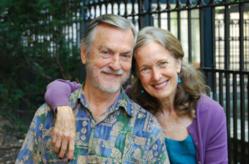 I came here with my biggest enemy; I'm leaving with my best friend.
Dallas, TX (PRWEB) October 06, 2011
Dallas-area couples looking to restore their connection or simply make the most of their relationships will have the rare opportunity to participate in a weekend workshop with the marriage counselor credited with Oprah Winfrey's #2 "Aha Moment." Harville Hendrix, along with Dallas native Helen LaKelly Hunt, will lead couples through "Getting the Love You Want: A Couples Workshop," based on the couple's New York Times best-seller of the same name. Those wanting to learn more about the workshop, to be held Friday, Nov. 7 through Sunday, Nov. 13 at the Fairmont Hotel in downtown Dallas, can visit HarvilleHendrix.com.
At the "Getting the Love You Want" event, couples new and old, in crisis or in love, married or unmarried, will explore their emotional history, learn how that influenced their choice of partner and gain new tools to create a deeply satisfying, long-lasting relationship.
Registrations, available on a first-come, first-served basis, can be made online at http://www.HarvilleHendrix.com. Early registration is available through Oct. 15 for $845 per couple. After October 15, the cost is $895 per couple.
ABOUT
Married since 1982, Harville Hendrix, Ph.D. and Helen LaKelly Hunt, Ph.D. co-created Imago Relationship Therapy, a therapy for couples now practiced by over 2,000 certified therapists in 30 countries. Their collaboration has resulted in 10 books on intimate relationships and parenting. Referred to by Oprah Winfrey as the "Marriage Whisperer," Hendrix has been featured on the "Oprah" show 17 times and was included in the "Greatest Lessons Learned" episode, which examined highlights of her career as the nation's top talk show host.
###