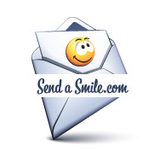 Clifton, NJ (PRWEB) October 06, 2011
Send a Smile is making its formal debut October 2011 in the United States as the worlds first online greeting card community. This new form of purchasing greeting cards is a step towards technology in one of the last industries to do so. Instead of having to drive to the store to pick out a card and then to the post office, now it is possible to complete these actions from your home computer or laptop.
Send a Smile is a website that is user friendly and easy to navigate as well as the largest community for greeting card professionals on the internet. Combating with other top greeting card websites, Send a Smile is original in that their are no copyright agreements to sign as well as no non-compete contracts thus allowing a user to be able to sell their greeting cards on a multitude of websites. Originating in the Netherlands, it became one of the most popular European sites to visit. This website allows consumers to choose between signing up as a designer or starting their own greeting card shop where they can design cards for their personal collection or make them public for anyone to buy. Based on the route the designer takes would determine the percentage of commission the designer would receive.
The printing and processing of each individual card is done at any three of the printing facilities connected with Send a Smile. The U.S. division of Send a Smile will have all of their cards printed and processed through Sandy Alexander, a trusted quality printing and marketing company located in Clifton, NJ.
Currently, it is the only greeting card personalization website that allows users to create their own white label greeting card shop where they may have a unique URL, format their home page and even see real time statistics for their shop. This also means that the user must advertise for their card shop or designs through any websites, print or digital advertising they use to promote themselves.
Send a Smile does more then allow the small greeting card designers of the world to showcase their work but also it assists Non-Profit organizations to generate revenue. The non-profit will have their own card shop with greeting cards created either internally from within their organization or can pick greeting cards to add to their store from the card catalog. The organization will receive a portion of each card sold to help fund that organizations specific mission. It is a simple yet different way to raise proceeds for a cause without having to spend superfluous amounts.
Send a Smile was created in 2009 and originated in the Netherlands. Today, Send a Smile has expanded to both the United Kingdom and the United States allowing its users to send cards internationally. Send a Smile is spearheading the online greeting card revolution with its many features and capabilities making it one of the fastest growing online greeting card communities.
Designers interested in learning more about Send a Smile and the opportunities it may bring, can visit Send a Smile.
###