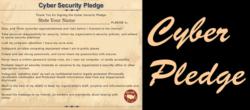 Sign the Cyber Security Pledge and Show Your Commitment to Staying Safe in Cyber Space!
East Greenbush, NY (PRWEB) October 04, 2011
The Center for Internet Security (CIS), a national not-for-profit, is celebrating national Cyber Security Awareness Month and is conducting a number of activities to educate users about staying safe online. National Cyber Security Awareness Month highlights the importance of empowering citizens, businesses, government, and schools to improve their cyber security preparedness. Awareness Month, now in its eighth year, is sponsored by the U.S. Department of Homeland Security and includes collaboration with the Multi-State Information Sharing and Analysis Center (a division of CIS), the National Association of Chief Information Officers, the National Cyber Security Alliance, and many other public and private sector organizations across the nation.
In recognition of the Awareness Month theme that Cyber Security is Our Shared Responsibility, CIS has launched a Cyber Security Pledge campaign to encourage citizens to declare their commitment to using good practices for staying safe on the Internet. The pledge can be signed online at http://www.cisecurity.org.
The Multi-State Information Sharing and Analysis Center (MS-ISAC) is hosting a live webcast on Thursday, October 6 at 2:00pm Eastern featuring cyber security experts who will provide users with top tips for staying safe online.
The webcast is free and open to the public. Registration is available at http://www.msisac.org
The MS-ISAC has developed a Cyber Security Toolkit that features a variety of material—including calendars, posters, bookmarks and guides—with timely and practical advice for staying safe online. The Toolkit was distributed to all 50 states, the District of Columbia and several U.S. Territories for use in awareness campaigns.
To help promote awareness at the highest levels of state government, the Toolkit includes a template for gubernatorial proclamations. Every governor in the nation has been invited to endorse Cyber Security Awareness Month through the issuance of a proclamation or letter of support. For the past two years, 50 governors signed a proclamation or letter of support. Templates for local government officials are also provided.
The Toolkit material is also available electronically at http://www.msisac.org
Additionally, the MS-ISAC is conducting its third annual Best of the Web contest to recognize state and local governments that use their websites to promote cyber security. The state of Delaware and the city of Seattle were selected as the 2010 winners. The 2011 winners will be announced later this month.
"I am pleased to join our partners in helping raise awareness about online safety," said William Pelgrin, President and CEO of CIS and Chair of the MS-ISAC. "There are many simple steps we can take to protect our families and our information online: make sure your computer has anti-virus software and other security protections; always use strong passwords; limit the amount of personal information you post online; and be careful when clicking on links or email attachments – if it sounds too good to be true, it probably is! I encourage everyone to visit our website to learn more and take advantage of the resources available there."
Additional Resources Available at http://www.msisac.org:
MS-ISAC Daily Tips (Web and RSS Feed)
MS-ISAC Monthly Newsletters
MS-ISAC Cyber Security Guides, Training Links and Videos
About the Center for Internet Security
The Center for Internet Security (CIS) is a not-for-profit organization whose mission is to enhance the cyber security readiness and response of public and private sector entities, with a commitment to excellence through collaboration. CIS comprises three divisions: the Multi-State Information Sharing and Analysis Center, Security Benchmarks, and the U. S. Cyber Challenge.
###