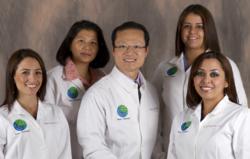 Embroidery perfection is our commitment to our customers and colleagues.
San Clemente, CA (PRWEB) October 05, 2011
Medelita®, a high-quality performance lab coat and scrubs manufacturer, is pleased to offer the Office Makeover program - helping medical and dental offices to display a visual message of dedication, aptitude, and prestige. A clinician-owned company, Medelita understands that the outward appearance of a medical professional can have a tremendous impact on the comfort of a patient.
Historically, physicians dressed in black, which was considered formal and representative of the serious nature of medicine. The solemn sense of mourning conveyed by the dark clothing was unfortunately appropriate for the majority of patients in a time when being sick enough to require hospitalization often meant an inevitable death. With advances in medicine in the 20th century, however, hospitals were transformed from houses for dying . . . into institutions of healing.
At this cusp of medical advancement, a new breed of scientifically-minded physicians recognized the importance of visual appearance and shed the dreary grim reaper garb in favor of the white lab coat, adapted from the beige coats of scientists. The white lab coat, therefore, symbolized not only healing and life, but a new hope in medicine.
The word candor is derived from the Latin word for white, and this representation of truth was a visual reminder of the physician's commitment to do no harm, instilling trust and respect in patients. Many patients still view the white coat as a "cloak of compassion" – a symbol of the care they expect to receive from their physicians.
As building trust between staff and patients is often a primary concern for any medical practice, the appearance of an office must similarly portray an unequivocal image of professionalism and aptitude, consistent with the high standards and level of expertise that patients expect. Through the Office Makeover program, Medelita helps medical and dental professionals ensure that they are conveying the right message to their patients - a message of capability, thoughtfulness, concern, and caring.
At the heart of the Medelita Office Makeover program is exceptional embroidery service. Medelita believes that name and title embroidery is the finest finishing touch that you can add to a lab coat or scrub set, as a sophisticated statement of achievement and aptitude. Custom Logo Embroidery offers a artistically rendered and beautifully sewn display of your office, hospital, or practice logo.
Medelita founder, Lara Manchik, PA-C says, "Our team spends a tremendous amount of time and energy ensuring that every single inch of fabric, trim and finishing detail is perfect. But truly, when a new customer receives their first Medelita lab coat (or clinician scrubs), embroidery is the very first thing that they see. It's their personal statement of achievement, a symbol of dedication and professionalism that must be displayed with the utmost quality and attention to detail. Embroidery perfection is our commitment to our customers and colleagues."
The embroidered logos are digitized in-house by the expert embroidery team at Medelita, and every Office Makeover embroidery and logo request is handled at every step with the personal attention of an Embroidery Liaison. Custom logos are stitched directly to the medical uniforms rather than being applied as a typical patch logo, and exude the very highest level of quality, while making a bold statement to patients and colleagues alike. Medelita often refers to their embroidery services as "the icing on the cake" allowing medical professionals to display their logo with pride and sophistication.
About Medelita
Medelita® is redefining the way that healthcare professionals think about their lab coats, uniforms and scrubs by offering the highest quality, best fitting, and most comfortable medical garments available. Medelita combines innovative performance fabric technology and intuitive design to create uniforms that present a professional and sophisticated display of achievement, confidence, and prestige. For more information, visit the Medelita website at http://www.medelita.com or call 877.987.7979.
###