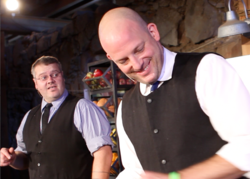 California's modern cocktail movement is so energetic and dynamic and while San Francisco prevailed today, we look forward to seeing how both cities continue to grow and innovate this exciting trend."
-Margo True, Sunset food editor
Santa Margarita, CA (PRWEB) October 04, 2011
On Sunday, October 2, Sunset magazine declared San Francisco the cocktail capital of California thanks to mixologist Erik Adkins of that city's The Slanted Door restaurant. Erik battled for the honor against Damian Windsor of Los Angeles' The Roger Room at the "LA vs. SF: Food Town Smackdown-Cocktail Edition," which took place on the final day of Sunset SAVOR the Central Coast. In its second year, SAVOR is a four-day food and wine event that celebrates the amazing food, wine and hospitality of California's beautiful Central Coast. The competition, which was presented by William Grant & Sons, took place during SAVOR's Main Event at Santa Margarita Ranch in the beautiful and historic Asistencia, which dates back to 1817.
In a competition that challenged the contestants' creativity, skill and knowledge, Erik was declared the winner after receiving the highest score in two rounds of cocktail creation and a "bonus" quiz-show round based on the hilarious NPR radio show, "Wait, Wait, Don't Tell Me" that challenged the contestants' familiarity of obscure cocktail trivia and history. The cocktails were scored by an esteemed panel of judges that included Sunset food editor Margo True, LA Weekly's Jonathan Gold, tablehopper.com's Marcia Gagliardi, and Charlotte Voisey, company mixologist for William Grant & Sons, the competition's sponsor. Emcee Jason Kessler, an LA-based television and food writer who contributes to Bon Appetit, Sunset, and Eater LA as well as writing for The Office, kept the crowd entertained while the mixologists prepared their cocktails.
For their first entry, the contestants were each asked to create a "Farm-to-Glass" cocktail, which was required to include at least three ingredients found in the Sunset Kitchen Garden, a 2-acre garden planted on the grounds of Santa Margarita Ranch, the site of the "Smackdown." The resulting cocktail was judged on how well it expressed the flavors of the season and the surrounding beauty of the Central Coast, as well as on presentation and taste. Erik Adkin's "Autumn Cup" was a seasonal take on the Pimm's Cup, highlighting Hendrick's Gin in a stunning presentation that blended the herbal and fruit flavors found in the garden with Calvados, sweet and dry vermouth, Dubonnet, Campari, and Lillet. Damian Windsor's "Summer Sunset" put late-harvest watermelons and strawberries center stage, adding an herbal note with lemongrass, and a sprig of rosemary garnish.
A modern update on a pre-prohibition era libation, the second round "City Classic" cocktail was judged based on how well it expressed the distinct history and culture of the contestants' respective cities. Presentation and taste were also equally weighted. Erik's "Gin Fizz Tropical" blended two Bay Area classics: Trader Vic's Mai Tai, originally poured at the Emeryville Tiki temple in 1944, and Pisco Punch. An impressive "meringue" floated atop each glass creating an elegant presentation. For Damian's unnamed cocktail, he deftly blended Rye whiskey with Jamaican #1 bitters, Pineapple gum from Small Hand Foods and spicy notes of black pepper, clove and allspice.
In addition to the glory, the winner was presented with a bottle of The Balvenie PortWood Single Malt Whiskey, Aged 21 Years, courtesy of William Grant & Sons. Established in 1887, William Grant & Sons is an award-winning independent family-owned distiller whose portfolio includes Hendrick's Gin, Stolichnaya, Glenfiddich, and Milagro tequila.
"Both mixologists demonstrated an incredible amount of creativity, skill and inspiration and all of their cocktails were delicious. We are so thankful to them, our judges, and our emcee for making this such a successful event-one we hope to continue at SAVOR 2012," said Margo True, Sunset food editor and "Smackdown" judge. "California's modern cocktail movement is so energetic and dynamic and while San Francisco prevailed today, we look forward to seeing how both cities continue to grow and innovate this exciting trend."
The "LA vs. SF Food Town Smackdown-Cocktail Edition" at SAVOR was organized as a rematch after Los Angeles beat out rival San Francisco by only one point in Sunset's 'California Food Fight' article in the July issue of the magazine, It also gave the two cities the opportunity to meet in the middle and duke it out on neutral ground.
Sunset magazine partnered with the San Luis Obispo County Visitors & Conference Bureau to launch Sunset SAVOR the Central Coast 2011. Ticket proceeds and sponsorships are considered donations to the San Luis Obispo County Visitors & Convention Bureau, a 501 c 6 non-profit tourism organization promoting San Luis Obispo County.
About Sunset magazine
Sunset magazine is the premier guide to life in the West, covering the newest and best ideas in Western home design and landscaping, food and entertaining, and regional travel in 13 Western states. Sunset and http://www.sunset.com are part of the lifestyle group of magazines and websites published by the Time Inc. Lifestyle Group.
About the San Luis Obispo Visitors & Conference Bureau
The San Luis Obispo County Visitors & Conference Bureau promotes San Luis Obispo County through advertising, marketing, public relations and group sales. Its membership base is comprised of over 500 tourism industry-related businesses including lodging properties, restaurants, wineries, golf courses and retail stores. For more information on the VCB, please visit http://www.SanLuisObispoCounty.com or contact Molly Morrison Cano at 805.781.2531 or mollym(at)sanluisobispocounty(dot)com.
###