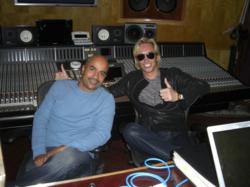 We're working on an amazing album which is sure to rock the charts next year.
Hollywood, CA (PRWEB) October 04, 2011
Raffles Entertainment is pleased to announce that global pop sensation KUBA Ka has teamed up with 4 time Grammy nominee DJ Steve "Silk" Hurley in Chicago for what is sure to be one of the most highly anticipated dance albums of 2012.
KUBA Ka and Steve "Silk" Hurley started working together on KUBA Ka's forthcoming album in May, 2011. The untitled album is a fusion between classic house beats and aggressive Euro-Dance music. The new fusion is sure to burn up the dance floor in 2012.
"I am very excited to work with Silk! He has such incredible vision for music and fantastic energy in the studio," states KUBA Ka. "I feel like I've finally discovered my true sound with Silk. We had that creative connection the moment we met. To find a musical connection like that is unique. I consider Steve a great friend and a phenomenal producer. It's more than fun to collaborate with this man!"
"It's truly a pleasure working with KUBA-Ka. His personality lights up the room, so we immediately had chemistry in the studio," states Steve "Silk" Hurley. "KUBA's also a high energy performer with star power! I'm looking forward to bringing my new sound to Poland and the rest of Europe with KUBA Ka!"
Celebrity consultant and music producer Raffles van Exel of Raffles Entertainment is leading the project as executive producer.
"I've known Steve "Silk" Hurley for many years and I thought KUBA Ka energy would fit perfectly with Steve's cutting edge sound," states Raffles van Exel. "We're working on an amazing album which is sure to rock the charts next year. Get ready world! KUBA Ka will be a world renowned super star!"
About KUBA Ka
KUBA Ka is an international singer, dancer and actor hailing from Poland. He is considered a pop superstar and humanitarian in his homeland and throughout Europe. KUBA was named one of the Greatest Men of 2001 by the Polish edition of ELLE Magazine. KUBA has performed with legendary icons including Oscar winning actress Vanessa Redgrave.
In 2000, KUBA was a guest star of the Christmas Day for the Youth at Presidential Palace in Warsaw, invited by the former President of Poland – Aleksander Kwasniewski and his wife, Jolanta. The stage was set for worldwide domination when legendary manager and music industry veteran Frank DiLeo signed KUBA Ka to a management deal with the Dileo Entertainment Group in July, 2010.
KUBA Ka was honored at the YACH Film Festival in Gdansk, Poland on September 10, 2011 and is working on his American debut for 2012. KUBA is also working with world renowned vocal coach Seth Riggs.
About Steve "Silk" Hurley
Steve "Silk" Hurley is a producer, songwriter, DJ, and 4-Time GRAMMY® Nominated Remixer. He began his career as a DJ, artist, producer, and pioneer of Chicago's "House Music". After creating several No. 1 hits with RCA, London, and Atlantic Records as a recording artist, Silk shifted his focus to songwriting, producing and remixing. He has since worked with hundreds of various artists including Prince, Madonna, Janet Jackson, Michael Jackson, CeCe Peniston, R. Kelly, and Mary J. Blige. While maintaining a successful production career in which he has sold several million records, Silk has still remained true to his DJ roots. He is an international DJ, and has been featured since 1994 on the nationally syndicated Tom Joyner Morning Show, which has over 8 million listeners.
Hurley has managed to build a reputation as "The Mashup King" with his mix show segment called "The Old Skool New Skool Remix", which is featured 5 times weekly. As a member the "Dream Team" for Oprah Winfrey's "Pop Star Challenge Contest", Silk produced the music tracks for the 8 contestants' performances, as well as Oprah's Pop Star Challenge 2004 Cast Album on Epic/Sony Records.
About Raffles van Exel
Raffles van Exel, CEO of Raffles Entertainment, LLC, is a highly respected entertainment consultant having guided some of the world's most acclaimed executives and celebrities: Actor Quinton Aaron from the smash hit The Blind Side with Sandra Bullock, Soul-Funk icon Chaka Khan, Peter Lamas CEO and founder of peterlamas.com, "Skin Diva" Christine Heathman of glymedplus.com, the late King of Pop Michael Jackson, Whitney Houston, Patti LaBelle, Lance Bass (Founding member of iconic pop group, N'Sync), Flavor Flav of the iconic rap group Public Enemy and of the "Flavor of Love" fame, George Benson, and the late Ray Charles. Raffles van Exel has produced for The Queen of Salsa - the late and great Celia Cruz, funk pioneer George Clinton, Sisqo, Nick Cannon, Howie Dorough (Founding member of Grammy nominated group, The Backstreet Boys), rap icon and actor Ice-T, and a host of other artists.
For more information about KUBA Ka and Raffles Entertainment, please contact pr(at)rafflesentertainment(dot)com
Source: Raffles Entertainment
###