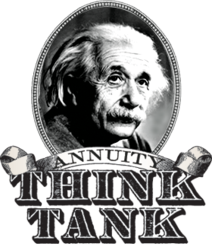 Houston, TX (PRWEB) October 06, 2011
Annuity Think Tank, the #1 site for all things annuity related, announces the first ever annuity television site, http://www.freeannuity.tv, dedicated to consumers. The new consumer site is built around educational annuity videos, while also providing annuity white papers, free reports, and daily annuity related blogs.
With the drastic decline in Americans receiving pensions, the need for guaranteed income streams has never been so great. And now that there are approximately 10,000 baby boomers turning 65 every day for the next 10 years, the demand for vehicles that can guarantee lifetime income will hit an all time high. Finally, as pensions slowly become obsolete, annuities will be the only choice left to ensure retirees' income needs.
The challenge is there are so many different types of annuities and so few places that baby boomers, seniors, and consumers can rely on for unbiased and purely educational annuity information. Moreover, the few sites that do exist are bland and not consumer friendly. That is exactly why Annuity Think Tank has invested so much time and energy to build an annuity based educational consumer site. The annuity television site offers videos from basic annuity frequently asked questions, to in depth annuity features. At the end of most of the videos the educator gives the consumer a couple of questions to make sure they understand the major concepts before they buy into an annuity.
In addition to the video based annuity website, The Annuity Think Tank also has a free advisor matching service, where consumers can find the best annuity experts in their area. They will always have the chance to interview the advisor, check out his or her background and expertise level, and get any testimonials before ever meeting face to face. Annuity Think Tank makes every advisor in their system go through a strict interview process. Furthermore, they undergo a full background check, must have all licenses up to date in their state, be A rated with the Better Business Bureau, and be in good standing with the National Ethics Association.
About Annuity Think Tank
Annuity Think Tank's vision is to be the first place advisors and consumers come to for innovative annuity solutions, unbiased annuity education, annuity research, and the most comprehensive annuity information on the web. Consumers, if you are interested in learning more about your current annuity, a new annuity, or basic to advanced annuity concepts, please visit the consumer site, http://www.theannuitythinktank.com, for more information. Advisors and financial professionals, please visit our site designed for you at http://www.annuitythinktank.com. For further questions contact us toll free at (855)888-6494 or email us at info(at)annuitythinktank(dot)com. We appreciate any and all feedback including new video ideas or concepts.
###