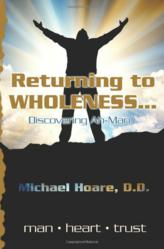 "Despite my circumstances, I knew healing was in store for me," says Hoare. "Returning to WHOLENESS was created as a result of the tragedies I've faced."
New Rochelle, NY (PRWEB) October 11, 2011
Where do you turn after a life of loss and trauma?
In his new book, Returning to WHOLENESS, Hoare describes the support he received that enabled him to create solutions to empower himself and become whole again. Integrating a spiritual perspective, Michael guides readers to identify reasons behind self-defeating and self-destructing actions, in tandem with his honest perspectives, and provides them with the tools to move forward in attaining fuller, more peaceful lives.
No matter how significant the life challenge, you can overcome it and achieve wholeness. After being sexually abused during his childhood, he turned to drugs and alcohol to escape his pain – only to end up homeless in a New York City subway.
Not only battling his addictions, he faced a series of losses: by the time he was 16, he had lost both parents within a year, his best friend 2 years following and his younger brother a year and a half later. His fiancée died two weeks before their wedding date. Eleven months after his fiancée died, he learned that his daughter was battling cancer.
"Despite my circumstances, I knew healing was in store for me," says Hoare. "Returning to WHOLENESS was created as a result of the tragedies I've faced."
"Returning to WHOLNESS showcases the Ah-Man program, which integrates the God and primordial human inside everyone," says Hoare. "Hardships and trauma can be overcome through a process of rerouting, rewiring and reconnecting with our self, with others and with God."
Returning to WHOLENESS chronicles Michael Hoare's life events in an eye-opening guidebook that helps individuals work through the negativity in their lives, in order to become WHOLE again.
Returning to WHOLENESS
Michael Hoare
ISBN 1453677607
Available at http://www.amazon.com and http://www.ah-man.com
About the author:
Michael Hoare currently resides in New Rochelle, New York and is the owner and president of Michael Hoare Brand Management Group. He spent three years of his life living as a monk in an ashram and is an Ordained Minister, Certified Angel Therapy Practitioner, and Spiritual Counselor. His unique journey has enabled him to create the Ah- Man counseling program to help others find their spiritual anchor. He is in a wonderfully fulfilling relationship and is the father of three adult children.
**FOR IMMEDIATE RELEASE**
EDITORS: For review copies or interview requests, contact:
Megan Giannini
Phone: 317-602-7137
Email: mgiannini(at)bohlsenpr(dot)com
(When requesting a review copy, please provide a street address.)
###