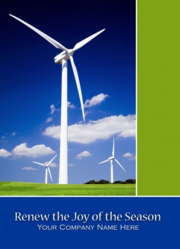 Union, KY (PRWEB) October 10, 2011
The concept is pretty simple: buy a product and help someone in the process.
It's called social responsibility and it has recently been highlighted by TOMS, a shoe company that donates a pair of shoes to a needy child for every pair of shoes a person purchases.
Social responsibility has been growing over the last 20 years. In 2010, companies spent $1.62 billion on cause marketing, according to the Cause Marketing Forum. In 1990, that number was just $120 million.
"It's about making your purchases mean something," said Cards for Causes founder and President Michael Rabidoux.
Cards for Causes company donates 20 percent of every greeting card purchase to a non-profit charity of the purchaser's choice.
"It's also a great idea. The consumer buys a product he or she needs, and at the same time, they get the satisfaction of helping us support a worthy cause," he said.
Cards for Causes, based in Union, Ken., has been growing more than 50 percent a year for the past five years, Rabidoux just announced.
Rabidoux said companies that engage in social responsibility operate like most companies. They seek to grow, innovate and better serve their customers. For example, Cards for Causes has recently added dozens of new designs for its holiday cards, many of which are printed on 100-percent recycled paper. This fresh inventory is part of the company's efforts to serve its customers.
"As a company that wants to grow, so we keep our inventory of more than 900 different designs fresh," said Rabidoux. "And we appeal to a varied audience. For example, our Christmas cards appeal to both businesses and individuals who may wish to send personalized holiday greetings to customers, colleagues, family and friends."
He said the difference between his company and other card sellers is the social responsibility, demonstrated by the fact that 20 percent of the cost of every card sold is donated to charity.
"Many greeting card companies give to worthy causes," said Rabidoux. "We directly tie giving to sales, so as sales increase, so does our philanthropy."
The benefits of that are adding up. Cards for Causes recently announced that it has donated to 19 hunger-related non-profits--which translates into 203,000 meals. In addition to hunger-related charities, the business donates to public services, international, health, education, environmental, wildlife and religious organizations.
"Our customers empower us to assist worthy non-profit organizations all over the country," Rabidoux said.
Cards for Causes feature an entire line of personalized greeting cards for all occasions for business and personal use, as well as a complete line of calendars, announcements and invitations.
About Cards for Causes
Cards for Causes was founded in 2006 with the mission of helping to support worthy causes by offering hundreds of holiday, all-occasion cards and invitations. Twenty percent of every card purchase is donated to the non-profit cause of the customer's choice. The company's goal is to raise $1 million to benefit worthy not-for-profit causes. Cards for Causes donates the largest percentage of its revenue compared to competitors of similar scope.
A card purchaser can choose the charity the wish for their purchase to benefit, including ones not currently listed on the site. To do this, you may click on the "submit a cause" link at the bottom of the Cards for Causes homepage to fill out the information needed for the not-for-profit organization you wish to add. Any charity that is organized or registered to do business in the United States and that is recognized as a tax-exempt organization by the IRS is eligible to be on the "select a cause" page and to receive donations from Cards for Causes.
Businesses can order holiday, thank you or special personalized greeting cards. There are greeting cards for almost any occasion--some of which are difficult to locate in a traditional retail setting--which may be purchased by individuals or businesses, including Christmas, Hanukkah, Thanksgiving, holiday, birthday, get well, pet sympathy, anniversary and retirement. For more information, visit http://www.cardsforcauses.com.
###