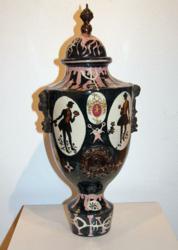 Aspen, Colorado (PRWEB) October 05, 2011
As an Aspen, Colorado gallery which represents the Turner Prize winning artist, Grayson Perry; Galerie Maximillian is proud to announce Perry's new exhibition at the British Museum. The exhibition is titled The Tomb of the Unknown Craftsman, the show will include new artwork by Perry juxtaposed with objects created by anonymous craftsmen throughout history. The historical objects featured in the exhibition, numbering over 100 total pieces, were specifically selected by Perry from the British Museum's archival collection. Perry views these historical objects, created by unknown men and women, as "pieces of art, deserving of our reverence for their presentation of the craftsman's exemplary skill".
In many ways, Perry's exhibition at the British Museum acts as a conduit for the artist to reflect on the meaning of what it is to be a so-called contemporary celebrity artist, as well as a way to pay homage to the highly talented, yet unknown, craftsmen from the past 2 million years. Through his use of objects old and new in the exhibition, Grayson Perry unfolds and explores themes of identity and craftsmanship and what these meant throughout history and what they mean now in contemporary society. Grayson Perry's show will open at the British Museum on October 6, 2011, and it runs through February 19, 2012. This show will run in conjunction with an exhibition of Grayson Perry's monumental etchings, textiles and ceramics available for purchase at Galerie Maximillian.
---
Galerie Maximillian is located at 602 East Cooper Avenue in downtown Aspen, Colorado. Our friendly, knowledgeable team of art consultants have over 40 years of experience in the fine art market. The gallery is open Monday-Saturday from 10:00am until 8:00pm, and Sundays from 11:00am until 7:00pm.
###