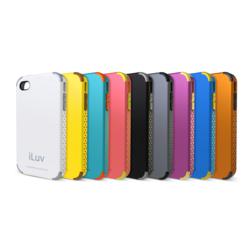 Port Washington, NY (PRWEB) October 04, 2011
iLuv Creative Technology, the premier provider of the most comprehensive line of accessories for the mobile lifestyle, today introduced a new line of fashionable and protective cases for the iPhone 4S and the new iPod touch. All of the newly-designed iLuv cases are compatible with existing iPhone 4 devices, as well as the iPhone 4S device introduced by Apple earlier today. Ranging from bright and playful to sleek and modern, iLuv's new iPhone 4 cases provide consumers with a fresh and diverse new range of options in materials, styles and price points.
"Consumers always rush out in droves the minute Apple introduces a new device," said Pia Chon, marketing director at iLuv. "And while they obviously want to be among the first to own the device itself, they also want to dress it up and protect it with high-quality accessories that reflect their personal sense of style. iLuv has a proud tradition of delivering a wide range of innovative, high-quality and fashionable accessories as soon as new Apple products hit the shelves and the iPhone 4S is no exception. What's even better about these cases is the fact that they're also backward compatible with the existing iPhone 4, and allow consumers to upgrade their style and protection if they're not yet ready to upgrade their phone."
iLuv conducted extensive consumer research in creating the new line of iPhone 4 accessories, incorporating a range of colors, styles and materials that consumers most desire. The result is a completely new and comprehensive range of cases that takes stylish protection to the next level and fit every consumer's sense of style and budget.
Cases range from the colorful and fun to contemporary and simplistic. New case designs include:

iCC760 Regatta Dual Layer Case- The chic Regatta features two layers of defense, against drops and falls, a high-gloss PC exterior and a soft interior. The case is available in nine color combinations to match anyone's style.
iCC765 Aurora Glow-in-the-Dark Case- Available in three colors, the Aurora's lively pattern illuminates at night or in a dark room. This silicone case provides a snug fit for premium protection.
iCC763 Festival Hardshell Case- The colorful and playful Festival provides innovative protection while allowing users to show off their sense of style. The customized design is super sleek and permits access to all the new iPhone's features.
iCC749 Gilt Metallic Case- The super sleek Gilt features a polished finish for a gilded look. The case's sturdy and durable construction provides maximum security against bumps, drops and scratches.
Pricing and Availability
The complete line of iLuv iPhone 4 Series cases are available at select iLuv retailers. Prices for the iLuv iPhone 4 Series cases range from $19.99 to $34.99.
Follow us on Twitter @iLuv_World, or friend us on Facebook at "iLuv Creative Technology."
About iLuv
iLuv® Creative Technology, the premier provider of the most comprehensive line of accessories for the Apple, Samsung Galaxy and smartphone markets, rapidly delivers products for today's discriminating consumers. Since inception, iLuv has amassed a total of 16 prestigious CES Innovations awards, recognized for design and engineering in the portable, multimedia accessories, headphones and the in-vehicle accessory categories. Headquartered in New York, iLuv is a division of jWIN Electronics Corp., a leading consumer electronics company since 1997. All iLuv products are conceived, designed and developed in New York and continue to lead in quality, value, design and innovation. Learn more about our distinctive range of products and why iLuv means Innovative Lifestyle Unquestionable Value® at http://www.i-Luv.com.
iLuv® and Innovative Lifestyle Unquestionable Value® trademarks are the exclusive properties of jWIN Electronics Corp. and are registered with the U.S. Patent and Trademark Office, and may be registered or pending registration in other countries. All other iLuv® trademarks, service marks, and logos may be registered or pending registration in the U.S. or in other countries. All other trademarks or registered trademarks are the property of their respective owners. © 2011 iLuv Creative Technology.
###