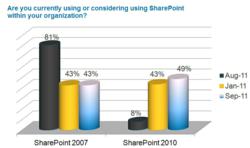 "With this information, which will be available to the public, we have a better understanding of our customer's needs allowing us to improve our products, solve customer problems and grow our presence in the SharePoint market." - Lubor Ptacek, OpenText
Microsoft Sharepoint Conference 2011, Anaheim, CA (PRWEB) October 05, 2011
OpenText today unveiled the results of How are Businesses using Microsoft® SharePoint® in the Enterprise? Fall 2011 Market Survey. The survey is conducted semi-annually to determine the breadth and depth of Microsoft SharePoint usage in the market today, to understand how companies are driving value out of their implementations, and to identify challenges related to their investment.
Full survey results are available at http://www.becauseprocessmatters.com/survey-says-lack-of-business-strategy-among-top-concerns-of-sharepoint-deployments/.
Key survey results:

SharePoint 2010 Deployments Now Outpace SharePoint 2007 – Forty-nine percent of respondents use SharePoint 2010 as their primary deployment, with 43% using SharePoint 2007. Results of this survey published in January 2011 showed 44% of respondents using SharePoint 2010 and 43% using SharePoint 2007, illustrating that there are nearly equivalent levels of SharePoint 2007 and SharePoint 2010 adoption. August 2010 survey results showed 8% of respondents using SharePoint 2010 and 81% using SharePoint 2007 indicating that adoption of the 2010 edition continues to grow at a strong pace.
Business Process Management and Workflow are Top Third-Party Applications – Sixty-seven percent of respondents indicated they are using or planning to use workflow and business process management (BPM) with their SharePoint implementation. Additionally, BPM and workflow are the top-rated third-party add-on applications either being used or being considered by SharePoint users. Twenty-three percent of participants indicated that over 50% of mission-critical documents are stored in their SharePoint environment, further complementing the increasing need to understand and automate the process flow of critical documents.
Growing Concern Over Lack of Business Strategy for SharePoint Implementations – Lack of business strategy is the second largest implementation challenge within organizations. This has grown since past surveys, ranking as the fourth largest concern in the January 2011 survey. This growing concern indicates that organizations are focused on developing an enterprise-wide strategy designed to align business and IT and can achieve this through leveraging BPM and workflow applications, as these tools are a growing trend among SharePoint deployments.
"This survey gives us valuable insight into the current trends and challenges organizations face in their SharePoint deployments," said Lubor Ptacek, Vice President, Strategic Marketing & General Manager, Microsoft Solutions at OpenText. "With this information, which will be available to the public, we have a better understanding of our customer's needs allowing us to improve our products, solve customer problems and grow OpenText's presence in the SharePoint market."
OpenText conducted this survey in September 2011. Three hundred and sixty two people familiar with SharePoint from multiple industries worldwide participated in the survey. Previous survey results published in August 2010 and January 2011 are available at http://www.global360.com/download/sharepoint-survey. The survey results were on released during a panel discussion at the SharePoint User Conference. SharePoint User Conference attendees can visit OpenText at Booth 439 and OpenText Global 360 at Booth 443.
About OpenText Global 360
As the leader in process and case management solutions, OpenText Global 360 has helped 2,000 customers in 70 countries reduce paper, automate processes, and empower individuals to deliver increased productivity and business performance while reducing operational costs. As a business process management (BPM) market leader on the Microsoft® platform, OpenText Global 360 solutions enable customers to maximize the productivity of all participants in a process and improve business performance, as well as leverage and extend their Microsoft investments in BizTalk®, SharePoint®, Visio®, Lync™ and Office®. For details and success stories visit http://www.Global360.com.
Follow OpenText on Twitter @OpenText and on Facebook at http://www.facebook.com/opentext.
Follow OpenText Global 360 on Twitter @Global360IncBPM, Facebook http://www.facebook.com/Global360IncBPM, and YouTube http://www.youtube.com/user/Global360PersonaBPM
About OpenText
OpenText, a global ECM leader, helps organizations manage and gain the true value of their business content. OpenText brings two decades of expertise supporting 100 million users in 114 countries. Working with our customers and partners, we bring together leading Content Experts to help organizations capture and preserve corporate memory, increase brand equity, automate processes, mitigate risk, manage compliance and improve competitiveness. For more information, visit http://www.opentext.com .
Certain statements in this press release may contain words considered forward-looking statements or information under applicable securities laws. These statements are based on OpenText's current expectations, estimates, forecasts and projections about the operating environment, economies and markets in which the company operates. These statements are subject to important assumptions, risks and uncertainties that are difficult to predict, and the actual outcome may be materially different. OpenText's assumptions, although considered reasonable by the company at the date of this press release, may prove to be inaccurate and consequently its actual results could differ materially from the expectations set out herein. For additional information with respect to risks and other factors which could occur, see OpenText's Annual Report on Form 10-K, Quarterly Reports on Form 10-Q and other securities filings with the SEC and other securities regulators. Unless otherwise required by applicable securities laws, OpenText disclaims any intention or obligations to update or revise any forward-looking statements, whether as a result of new information, future events or otherwise.
Copyright © 2011 by OpenText Corporation. OPENTEXT is a trademark or registered trademark of OpenText Corporation in the United States of America, Canada, the European Union and/or other countries. This list of trademarks is not exhaustive. Other trademarks, registered trademarks, product names, company names, brands and service names mentioned herein are property of OpenText Corporation or other respective owners.
Contact:
Rich Maganini
OpenText
+1 847-961-0662
rmaganin(at)opentext(dot)com
Peter Gorman
OpenText
+1 781-761-6659
pgorman(at)opentext(dot)com
Kim Cornwall Malseed
OpenText Global 360
+1 703-470-2913
kcornwal(at)opentext(dot)com
###