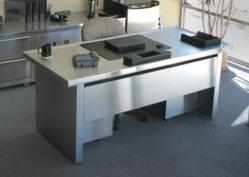 Reno, NV (PRWEB) October 06, 2011
Kenrick Stainless Designs is a new line of high-quality furniture for the home and office handcrafted in the U.S. of 100 percent lustrous stainless steel. The furniture is manufactured by Lamberston Industries, a Northern Nevada company that has been designing and manufacturing high-quality stainless steel products used in commercial and institutional kitchens for more than 50 years.
"The idea behind Kenrick Stainless Designs," said Ken Hewson, the owner and president of Lambertson Industries, "was to take the incredible features of stainless steel which are its durability, low maintenance, and lustrous appearance and create striking and useful stainless steel furniture for the home and office. We're really excited about the furniture designs and so far they've generated quite a bit of interest. Honestly, when people see our furniture, they can't believe how beautiful it is."
The current product line ranges from stainless steel desks, file cabinets, conference tables and bookcases to coffee tables, end tables, wall mounted shelves and decorative wall displays. New products are being developed and will be added to the line in the near future.
Kenrick Stainless Designs furniture is made in the U.S. and shipped directly from their manufacturing facility in Sparks, Nevada. Each piece can be customized in size and edge finish to meet the specific requirements of designers, builders, and consumers for commercial and residential use.
Kenrick Stainless Designs furniture is being marketed on their recently launched e-commerce website, http://www.kenrickstainless.com. The site also includes useful information about stainless steel and how to care for it.
For more information about Kenrick Stainless Designs, visit http://www.kenrickstainless.com, e-mail info(at)kenrickstainless(dot)com, call 775-857-1100 or toll-free 800-548-3324, or write Kenrick Stainless Designs, 1335 Alexandria Court, Sparks, NV 89434.
Contact Information
Candice Schubert
Kenrick Stainless Designs
info(at)kenrickstainless(dot)com
http://www.kenrickstainless.com
775-857-1100
###