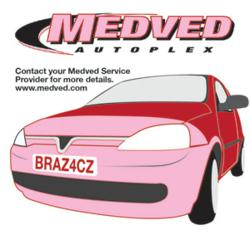 Castle Rock, CO (PRWEB) October 06, 2011
Medved Autoplex- one of the leading car dealerships in the Denver area is running a special event this October. During National Breast Cancer Awareness Month, Medved is running a special Bras for the Cause promotion: Purchase an automotive clear bra hood protector for $225, and $50 will be donated to either the Susan G. Komen Denver Affiliate or the American Cancer Society Making Strides Against Breast Cancer Northern Colorado Walk. Donations can be made in honor of a breast cancer patient and memorial cards will be displayed in our waiting areas throughout the month. Proceeds will help support breast cancer treatment and education in our local area.
In addition to seeing Pink everywhere, other color changes occur in October signaling a seasonal shift. As the vibrant fall foliage changes, so do the road conditions—the increased presence of gravel, salt, magnesium chloride, and other debris can be harmful to the paint and body of your vehicle. Protect it with a clear bra, which is essentially a shield for the very front of your car.
A big part of breast cancer awareness is prevention. The same is true of maintaining the quality of your vehicle. Whether you purchase a new vehicle, or just want to better protect the one you already have, purchase a clear bra hood protector at Medved and help fight breast cancer at the same time.
Chevrolet is also committed to supporting the American Cancer Society Making Strides by offering two rebate offers. Customers can waive their entitlement to those existing rebates, in which event, Chevrolet will contribute that amount to the American Cancer Society for offers purchased between October 1-31, 2011. The rebates that are eligible to be waved are listed below:

$29.95 after $10 mail-in rebate (Debit Card) - LOF/ Tire Rotation and MPVI
$74.95 after $25 mail-in rebate (Debit Card) - Durastop Brake Pads installed Per Axle
Medved Autoplex has a great selection of brand new cars in Wheat Ridge and Castle Rock, Colorado. They sell many used cars in the Denver area as well. Medved also has a fantastic service center with car parts and accessories. People who are looking for a new or used car, or need some car repair in the Denver area, stop by Medved Autoplex.
###