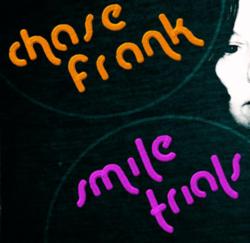 (PRWEB) October 05, 2011
Singer/songwriter/guitarist Chase Frank dropped her fourth, full-length studio release "Smile Trials" (Lindemark Music Collection) on iTunes September 20th. With its blend of raw, emotional vocals and minimalist melodies - the 9-song, concept album "Smile Trials" delivers music fans a healthy dose of Frank's compelling brand of raw, gutsy, lo-fi Rock.
Lending his considerable skills to Frank's latest release is Grammy Award-winning producer and keyboardist Ikey Owens (The Mars Volta/Long Beach Dub Allstars/Free Moral Agents). Engineered by Stephen Ceresia at Sunday House Studios in Bastrop, TX and Mixed & Mastered by Josh Achziger. Joined by Ikey Owens (keyboards); A.J. Butler (vocals); Steve Bernal (cello/bass) and Wayne Duncan (drums) – "Smile Trials" skillfully blends Frank's fascination with early R&B, retro guitar sounds and the Blues on this stormy, confessional album.
Each song on "Smile Trials" is like a short story told through the eyes of Frank's nine provocative characters. From the opening track, Johnny Masterall -- a sparse, haunting track which tells the tale of a arrogant lothario turned desperate nightlife junkie -- to the raw, stomp of Space Invasion which tells the story of a girl begging for simple human contact in the age of the internet & false bravado – while Sweet Apple rivets the listener with its gritty guitars, hypnotic drums and bittersweet tale of a woman who professes her love for the one that accepts her as she is. Each song on "Smile Trials" is a brilliantly executed blend of melody, minimalism and psychedelia.
"The songs on this album are like short stories – told through the voices of nine incendiary characters who either just can't get it right – or simply love the night," says Frank.
Frank is a native of Long Beach, CA. She currently resides in Austin, TX and performs her music in duo form with drummer Matt Danko touring both locally and nationally.
"Frank writes and plays like she's both armed and on the run, with her time and vision saved only for the most vital things and Owens' production shows just how gutsy these songs really are." -- Chris Ziegler, OC Weekly
For tour dates and additional information please visit: http://www.chasefrank.com
###