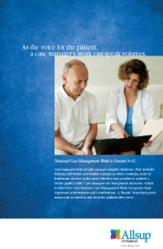 Belleville, Ill. (PRWEB) October 04, 2011
Americans coping with the aging process, particularly those with out-of-state caregivers, may benefit from the services of case managers, according to the Case Management Society of America (CMSA). During National Case Management Week, Oct. 9-15, 2011, the CMSA and other organizations, including Allsup, recognize the significant contributions and commitment that case managers make to assess, plan, facilitate and advocate for quality, cost-effective healthcare options and services that meet individual needs. Allsup is a nationwide provider of Social Security disability representation and Medicare plan selection services.
Seventy-seven million baby boomers were born between 1952 and 1964, according to the U.S. Department of Health and Human Services. This year, the first of America's baby boomers—the largest population in the history of the United States—will reach their 65th birthdays, creating a dramatic rise in healthcare utilization.
Case managers can play an essential role in the lives of aging baby boomers by helping patients and their families navigate the healthcare system. Case managers supply guidance and support to individuals who need assistance coping with an array of new regulations, social services options, physicians and medical jargon. Case managers who provide care management and care coordination services for older adults help caregivers distinguish appropriate providers and facilities among the growing vortex of elder care services, while ensuring that available resources will be used in a timely and affordable manner.
Earlier this year, CMSA made available to its members an online Case Management Resource Toolbox. The toolbox, located at http://www.cmsa.org/CMToolbox, allows quick and easy access to a collection of more than 100 case management resources, including white papers and websites that case management professionals at all levels can use in their daily practice as they work to improve health outcomes for patient and their families.
Case managers work in a variety of specialties, including healthcare, mental healthcare, geriatrics, addictions, long-term care, HIV/AIDS, disabilities, occupational services, child welfare, immigrant and refugee services to name a few.
Allsup is observing National Case Management Week with free posters available to case managers, clinics and other community groups by calling Karen Hercules-Doerr at (800) 854-1418, ext. 65770.
Media contact:
Case Management Society of America
Robert A. Pruss
(501) 673-1142
rpruss(at)cm-innovators(dot)com
http://www.cmsa.org
Free posters:
Allsup
Karen Hercules-Doerr
(800) 854-1418, ext. 65770
k.hercules-doerr(at)allsupinc(dot)com
http://www.allsupcares.com
###