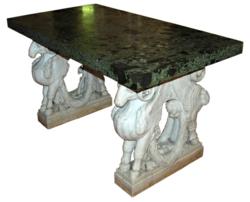 The table, with supports in the form of winged rams, is in the manner of Francesco Antonio Franzoni (Italian 1734-1818), and has the coat of arms of Pope Pius VI carved on the supports. The top is white and green breccia medicea polished marble.
Boston, MA (PRWEB) October 05, 2011
Kaminski Auctions of Beverly, MA and Beverly Hills, CA is following up their very successful August Asian auction with an important Asian evening auction on Thursday, October 14th at 4:00 followed by a two day Autumn Estate Auction Saturday and Sunday October 15th & 16th starting at 10:00 am at their auction gallery at 117 Elliott Street, Rte 62 Beverly, MA.
Highlights of this Asian sale include a stunning enameled lotus bowl decorated with flowers and butterflies on a fret background, estimated at $2000-$3000, and an impressive bronze Guan Yin standing 40 inches tall by 13 inches, estimated at $4000-$6000.
An overriding trend in today's Asian market is Chinese porcelain, which sell far above auction estimates. Kaminski's August Asian sale was no exception, as a circa 1925 Chinese vase painted in the traditional style of artist Wang Shigu with mountain landscapes reached $152,100 and became the star of the auction.
Exceptional porcelain pieces in this upcoming evening sale include a fine Kangxi period (1662-1722) oxblood vase estimated at $3000-$5000, and an 18th century Chinese export famille rose tureen with unique animal-shaped grips and a pomegranate-shaped finial, estimated at $4000-$6000, as well as a pair of 19th century Chinese famille noir lidded ginger jars painted with plum blossoms and birds on lacquer stands, which should bring well above their $700-$1200 auction estimate.
Other top lots include a 19th century famille verte vase elegantly painted with Chinese immortals, a 18th/19th century beautifully carved gilt wood standing Buddha, and a 19th century double-sided jade plaque on a wood base intricately carved with a ribbon-tailed bird perched amongst peony flowers on one side and an early morning scene on the reverse with a rooster overlooking a scholar reading under a pavilion and a farmer tilling with yoked ox.
Furniture in the sale includes a pair of 20th century Chinese hardwood armchairs with round marble back-plates and a Chinese Republic period four panel screen intricately carved with figures in garden scenes.
The evening format of the sale is sure to attract important dealers and collectors overseas on the Internet. Recent Kaminski Asian auctions have also seen a large regular audience of Asian art collectors in attendance, competing for the important lots.
An exceptional collection of American and European decorative furnishings, fine art silver and rugs are on offer Saturday and Sunday October 15th & 16th starting at 10:00am both days with items from a prominent Mexican family of Tijuana, Baja California and an important Beverly Hills collector. Both sale days have a mix of European and American items.
The cover lot of the auction brochure is an exquisite 18th or 19th century neoclassical style Italian table very similar to a table in the J. Paul Getty Museum Collection, Malibu, California. The table, with supports in the form of winged rams, is in the manner of Francesco Antonio Franzoni (Italian 1734-1818), and has the coat of arms of Pope Pius VI carved on the supports. The top is white and green breccia medicea polished marble. The table was once the centerpiece of the Paine Furniture Company's corporate offices at 81 Arlington Street, Boston, MA. It will be sold in its present location, from the consignor's home in Brookline, MA.
There is also a wonderful pair of Lalique style glass tables in the form of swans and signed at the bottom with an estimate of $6000-$7000.
Sure to draw considerable interest on Saturday, are two pieces of New Hampshire Queen Anne furniture, the first a desirably diminutive maple fan carved highboy with original brass hardware, circa 1760-1780 estimated at $6000-$9 000,and the second a single drawer tiger maple table estimated at $5000-$8000. A Boston Chippendale mahogany card table circa 1760 and estimated at $9000-$12,000 caps off the top lots of American furniture in the Saturday sale.
A pair of monumental 19th century Napoleon III Sevres urns are a featured lot of the Sunday sale. They are exquisitely painted on a navy blue and gold background with a coronation scene on one side and a landscape on the reverse. The urns stand 63 inches tall and are estimated at $30,000-$40,000.
An interesting silver item in the sale is a Norwegian silver Viking ship on stand centerpiece by the silversmith Gustav Gaudernack and dated 1901. It was produced by the David Anderson Company and is estimated to bring about $15,000.
There is a carefully selected collection of Inuit art, including soapstone sculptures, whalebone carvings and carved antler from Mr. and Mrs. Russell White, of Gloucester, MA. The Whites developed their interest in Inuit carvings in the 1960's during their family visits to Canada.
Several Russian paintings are included in the sale a female portrait, oil on canvas by Fedor Chumakov (Russian, 1823-1911) is estimated at $4000-$6000. There is a beautiful seascape with rocks, oil on board by Constantin Alexandrovitch Westchiloff (Russian 1877-1945) valued at $5000-$7000 and a still life, oil on canvas signed 1939 by Nikolay Sinezubov (Russian 1891-1948).
Other paintings include a Arthur Fitzwilliam Tate (American 1819-1905),oil on canvas, depicting a dog with a deer as well as a Jessica Hayllarr ,British (1858-1940) oil on canvas signed ……..estimated at $10,000-$15,000. A very large 17th century Spanish painting of a religious scene oil on canvas…..estimated at $8000-$12,000.
Lovely decorative furnishings abound in this sale. On Sunday, October 16th there is a pair of blackamoor torchieres on pedestals from the 1950's, a pair of Second Empire bronze six light candelabras on triangular bases, a hand painted French trumeau mirror, French Aubusson tapestry panels, a pair of French Louis XV armchairs with brocaded silk upholstery , a pair of French girandoles of gilt bronze, marble and crystal, a 17th century four panel Portuguese screen of stamped, painted and gilded leather, a pair of 18th century painted and polychrome candlesticks with scroll feet that have been converted into lamps, a wonderful pair of 19th century Imari lamps with gilt metal mounts, a pair of 17th century Italian angels of wood and gesso, and much more from a Beverly Hills collector with discerning taste.
Preview hours for this sale are Sunday, October 9th from noon-5:00pm, Monday –Thursday, October 13th 10:00am-5:00pm, Friday October 14th 10:00-4:00pm and starting at 8:00am days of sale at the Kaminski Auction gallery,117 Elliot Street , Rte62, Beverly, MA.
View all lots at our NEW website at http://www.kaminskiauctions.com.