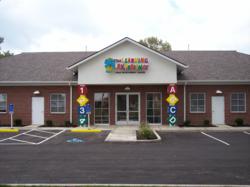 Now is the time to visit this fabulous new center.
Lewis Center, OH (PRWEB) October 06, 2011
The expansion into Ohio is a significant step for The Learning Experience(TLE), which relocated its World Headquarters from New Jersey to Boca Raton in 2009. Lewis Center, one of the newest centers, will be holding their Grand Opening Celebration on Saturday, October 8, 2011 from 11 am to 2 pm.
"This is a great opportunity for people to get a first real look at The Learning Experience in Ohio and get excited about TLE," said Kristy Kline, Co-Director of the center.
Serving as the gold standard of early childhood education for this burgeoning area, The Learning Experience® anticipates a great crowd for their Grand Opening event, which is free and open to the public.
An exciting line up of activities is planned for the whole family such as pony rides, bounce house, face painting, pumpkin painting and other games and activities for the kids to enjoy. Visitors to the center will also get the chance to meet Bubbles the Elephant® and local favorite, Corey the Safety Tug-Boat from U.S. Corps of Engineers, and tour the state-of-the-art new facility.
Those in attendance will be able to witness a ribbon cutting ceremony with Hearcel F. Craig, President Pro Tem of the Columbus City Council at 12:00pm. Mr. Craig is the Chair for health, Housing & Human Services; Minority, Business & Workforce Development and Veterans Affairs Committees.
Group tours will occur throughout the event, allowing interested parties to preview the state-of-the-art facility that boasts video-monitored classrooms, a safe and secure outdoor play area and Make Believe Boulevard®, just to name a few highlights.
At a time when many of its competitors have remained stagnant, The Learning Experience® continues its pace despite the employment market and added nationally 20 plus new centers to its system, for the last three consecutive years, and remain on pace to add 25 new schools this calendar year.
"We are the only childcare operator that we know of that has had double digit growth during every year of the downturn, which speaks to the strength of our brand, educational business model and management team effort," said Richard Weissman, President of The Learning Experience®. "More importantly, parents are responding to our decades of experience, proprietary curriculum, enthusiasm for learning and high degree of security features at every location. We understand the critical components necessary for serving children during their first five years of development, ensuring that children are prepared for a lifetime of education, while maintaining a safe, secure environment for parents to be at ease."
The Learning Experience® offers quality care and an ideal learning environment for children six weeks to five years of age at more than 120 Preschools throughout the U.S. with an additional 60 centers in development.
To learn more or to find a center near you, visit http://www.thelearningexperience.com.
###