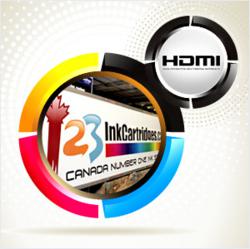 it has been progressively increasing to 28 catalogues, 614 kinds of cables currently.
Montreal, Quebec (PRWEB) October 05, 2011
Since The Canadian Company 123InkCartridges announced to enter into the HDMI Cables market in July, it has continued expanding the cable market reach during recent few months in order to cater to the demands of the market.
This time, 123InkCartridges mainly expand various kinds of cables in different price, brands and color without sacrificing quality. Moreover, the product department is still moving on cover almost all the cable catalogues and peripheral products the market needs, which allowing customer shop online freely.
In the initial stages of development, the Company 123InkCartridges only has 6 catalogues, 18 kinds of cables. Then it has been progressively increasing to 28 catalogues, 614 kinds of cables currently. Meanwhile, it also includes 54 HDMI splitters and switches, 78 all kinds of adapters and 25 home theater accessories and relevant peripheral products. The vast majority of products it sells are RoHS compliant which means the customer could use those products safely.
Besides the increase in cables quantity, the diversity of brands, covers from AmazeTec to world famous brand Monster in various prices with standard quality, also satisfies different kind needs of its valued customers. Furthermore, the company is keeping update with the change of the market, it also imports many cables that match for popular products, such as the Apple products to meet the market demands now. Focus on the customer needs and offer them the best deal is still the main business philosophy of 123InkCartridges.It will move forward to reach different market in the future in order to convenient customers to experience one-stop service in their website.
About 123inkcartridges.ca
Since established in 2007, 123inkcartridges.ca has quickly become one of most popular online sources for printer ink & toner cartridges, HDMI cables, iPhone Accessories and iPad Accessories in Canada. The company's headquarters is located in Montreal, Quebec and has warehouses in both Montreal and Vancouver that ship all over Canada and the United States. More information about the company could be found at http://www.123inkcartridges.ca/
###