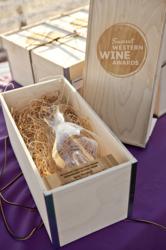 Pismo Beach, CA (PRWEB) October 04, 2011
On Friday, September 30, Sunset magazine editors, celebrity guests, and some of the region's most talented winemakers gathered at the Sunset Western Wine Awards Gala to celebrate the best in Western wine.
The event was emceed by Liam Mayclem, Emmy Award-winning host and a producer for CBS5's "Eye on The Bay" and attended by hundreds of industry insiders and Western wine lovers alongside Sunset editor-in-chief Katie Tamony and Sunset wine editor Sara Schneider. The festivities took place in a glamorous clear tent on the Pismo Beach Pier as part of Sunset Savor the Central Coast (http://www.savorcentralcoast.com), a four-day food and wine event dedicated to celebrating the beauty and bounty of California's Central Coast region.
The Sunset Western Wine Awards, which were established in 2005, are recognized as the biggest honor for Western winemakers, focusing solely on the best wine producers in the West. Sunset's panel of professional judges includes Western wine writers, sommeliers, and wine instructors, who nominate wines they have tasted in the past year. The winners in each category are selected by the judges during a blind tasting at Sunset's headquarters in Menlo Park, California. This year more than 500 nominated wines were tasted before narrowing the field to 32 finalists.
And the winner is…
2011 Sunset Western Wine Awards were awarded to the following wines, winemakers, and wine venues:
Steal of the year
$15 and under
Gruet Nonvintage Blanc de Noirs (Lower Rio Grande, New Mexico; $15)
Project Paso 2009 Red Wine Blend by Don Sebastiani & Sons (Paso Robles;
$14)
Good value
$16 to $25
Navarro 2010 Estate Dry Gewürztraminer (Anderson Valley; $19)
Qupé 2009 Syrah (Central Coast; $17)
Connoisseur
$26 to $40
Robert Sinskey 2010 Scintilla Sonoma Vineyard "Abraxas" Vin de Terroir (Los Carneros; $34)
St. Innocent 2009 Zenith Vineyard Pinot Noir (Eola-Amity Hills; $36)
Special Occassion
$41 to $60
Woodward Canyon 2010 Chardonnay (Washington State; $44)
Villa Creek 2009 "Willow Creek Cuvée" (Paso Robles; $42)
Deep Pocket
Over $61
Robert Mondavi 2009 To Kalon Vineyard "I Block" Fumé Blanc (Napa Valley; $75)
Anomaly 2008 Cabernet Sauvignon (St. Helena, Napa Valley; $85)
Lifetime Achievement Award
Allen Shoup, managing partner of Long Shadows Vintners, managing partner of The Benches at Wallula Gap
Winemaker of the Year
Isabelle Meunier, Evening Land Vineyards, Oregon
Sommelier of the Year
Terry Threlfall, Wine Director, Hawksworth Restaurant, Vancouver, B.C.
Best Winery Tasting Rooms (three categories)
Most Beautiful
Denner Vineyards, Paso Robles
Entertainment Value – Sense of Humor
Francis Ford Coppola Winery, Sonoma County
Added Value-Experience Beyond Tasting
Raymond Vineyards, Napa Valley
Best New Wine Bars (three categories)
For the Wine Geek
Covell, Los Angeles
For the Foodie
The Local Vine, Seattle
For Super-Local Wines
Urban Enoteca, Seattle
The Western Wine Awards winners will be featured in the November issue of Sunset magazine.
In addition to the excitement of the awards ceremony, the gala guests had the opportunity to taste many of the 32 nominated wines, which were passed throughout the tables. The wines were paired with seasonal cuisine, prepared by the Central Coast's top chefs from the area's most exciting restaurants, including Lido Restaurant at Dolphin Bay Resort & Spa, Marisol at The Cliffs, and Ventana Grill.
Editors available for interviews.
Sunset magazine has partnered with the San Luis Obispo County Visitors & Conference Bureau to launch Sunset SAVOR the Central Coast 2011. For more event information visit http://www.SavorCentralCoast.com, or call 800‐768‐6653. Become a fan on Facebook: http://www.Facebook.com/SavorCC, or follow us on Twitter (@SavorCC). Ticket proceeds and sponsorships are considered donations to the San Luis Obispo County Visitors & Convention Bureau, a 501 c 6 non‐profit tourism organization promoting San Luis Obispo County.
About Sunset magazine
Sunset magazine is the premier guide to life in the West, covering the newest and best ideas in Western home design and landscaping, food and entertaining, and regional travel in 13 Western states. Sunset and http://www.Sunset.com are part of the lifestyle group of magazines and websites published by the Time Inc. Lifestyle Group.
About the San Luis Obispo Visitors & Conference Bureau
The San Luis Obispo County Visitors & Conference Bureau promotes San Luis Obispo County through advertising, marketing, public relations and group sales. Its membership base is comprised of over 500 tourism industry-related businesses including lodging properties, restaurants, wineries, golf courses and retail stores. For more information on the VCB, please visit http://www.SanLuisObispoCounty.com or contact Molly Morrison Cano at 805.781.2531 or MollyM(at)SanLuisObispoCounty(dot)com.
###