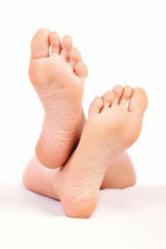 With the treacherous conditions caused by snow and ice in the winter, they stress that proper footwear is essential to avoid winter injuries
East Cobb, Georgia (PRWEB) October 05, 2011
Although the weather is dramatically changing with winter approaching, most committed runners don't take a break from their scheduled routines. However, the winter months take on special challenges. It is imperative to select the proper footwear for the season upon us. According to Erica at Podiatry Group of Georgia "With the treacherous conditions caused by snow and ice in the winter, they stress that proper footwear is essential to avoid winter injuries." If emphasis isn't placed in this area, ankle sprains, blisters and other injuries can bring much grief and pain and disrupt or sideline any activities you are engaged in.
Another ongoing problem in the winter months is dry skin. With the onset of chilly winter weather, it is accompanied with dry air, which leads to cracked, dry skin. According the American Podiatric Medical Association (APMA), in order to continue their regiment, special attention should be given to dry, cracked skin due to less moisture being present in the air. It is imperative to properly moisturize with an effective lotion to help repair dry feet and have smoother, softer skin.
The Podiatry Group of Georgia also recommends purchased winter footwear with non-slip soles to prevent any slippage due to ice and snow thereby addressing any potential injury. Additionally, purchasing footwear constructed with leather or natural fibers will help to absorb moisture and keep feet dry. Those suffering from diabetes or other conditions that cause decreased circulation should take extra care to keep feet well-insulated during the winter to avoid frostbite, including wearing socks made with a poly-cotton blend, even when indoors.
If you experience a foot or ankle injury, immediate treatment should be sought from an APMA
physician on staff at Podiatry Group of Georgia.
About Podiatry Group Of Georgia: Their mission is to passionately pursue the health and well-being of their patients by providing the highest quality services from a Georgia ankle doctor. They do this by providing surgical care in a safe, effective and efficient manner utilizing our culture of exceptional service and state of the art technology, and to educate their patients so they can be involved in their treatment and make informed decisions.
###