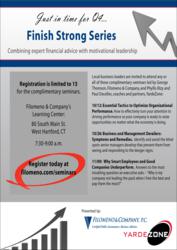 We are looking forward to engaging area business leaders in conversations about real issues that have a profound impact.
West Hartford, CT (PRWEB) October 04, 2011
Just in time for the fourth quarter Filomeno & Company, a proactive CPA and business advisory firm, and YardeZone, a management consultancy that helps companies dramatically change the way they do business, have joined forces to offer a series of seminars designed for C-level executives and SMB owners that marries strong financial advice with motivational leadership practices.
"After working with YardeZone it became clear to us that many of our clients needed to go deeper than analyzing numbers to achieve optimal success," said George Thomson, Director of Accounting and Auditing Services for Filomeno & Company. "So we decided to form this alliance to offer the option of a complete solution to business owners – our financial and tax guidance coupled with the YardeZone's unique management programs."
Local business leaders are invited to attend any or all of these complimentary seminars lead by George Thomson, and Phyllis Rizy and Paul Decelles, coaches and partners, YardeZone:
10/12: Essential Tactics to Optimize Organizational Performance. How to effectively turn your attention to driving performance so your company is ready to seize opportunities no matter what the economy is doing. 10/26: Business and Management Derailers: Symptoms and Remedies. Identify and avoid the blind spots senior managers develop that prevent them from seeing and responding to the danger signs. 11/09: Why Smart Employees and Good Companies Underperform. Answers to the most troubling question an executive asks – "Why is my company not leading the pack when I hire the best and pay them the most?"
"We are looking forward to engaging area business leaders in conversations about real issues that have a profound impact," Rizy said. "We timed this series for the fourth quarter so that leaders can begin positioning themselves to positively impact their company culture and profits, which will inspire a strong finish and leave everyone looking forward to Mondays again."
Registration is limited to 15 people per seminar. All seminars will take place at Filomeno & Company's Learning Center at 80 South Main Street, West Hartford, and will run from 7:30-9:00a.m. To register, visit http://filomeno.com/seminars.
About Filomeno & Company
Filomeno & Company is a proactive business advisory firm offering a wide range of services including: accounting & auditing, business advisory, business valuations, corporate tax, individual tax or strategic tax, qualified plans and fraud prevention. Located in West Hartford, CT, the company's mission is to passionately serve our clients, our community, our firm and each other. For more information, contact Filomeno & Company at 860.561.0020 or visit http://www.filomeno.com.
About YardeZone
YardeZone Inc. is a company that was formed to take the successful corporate culture created at Yarde Metals to other companies who want to make teamwork profitable! Yarde Metals grew from a $1000 investment into a $600 million company that is the envy of the industry. YardeZone helps companies and their employees look forward to Monday again. Our clients learn how to engage their employees so they really "think like owners". The results are companies that maximize profits, control costs, and reach goals. We'll shake up the way you think about your business, uncover where and why issues arise, and work with you to develop a realistic plan for change. After working with YardeZone, our clients tell us they've redefined their approach to work and rediscovered their lost energy and enthusiasm. For more information, contact YardeZone at 860.563.9112 or visit http://www.yardezone.com.
Press Contact: Jessica Lyon - Jessica(at)cocommunications(dot)com - 860.676.4400
###