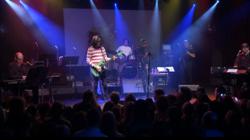 Peekskill, NY (PRWEB) October 19, 2011
Utopia /juːˈtoʊpiə/ is an ideal community or society possessing a perfect socio-politico-legal system. The word was imported from Greek by Sir Thomas More for his 1516 book Utopia, describing a fictional island in the Atlantic Ocean. The term has been used to describe both intentional communities that attempt to create an ideal society, and fictional societies portrayed in literature.
Todd Rundgren's Utopia (circa late 1970's) was just that, the perfect collection of musicians coming together to create an ideal sound.
On January 29 & 30, 2011, a reunion of most of the members of the 1974 Utopia Mark II band (Rundgren, Moogy Klingman, Ralph Shuckett, John Siegler, and Kevin Ellman) was held for two nights at the Highline Ballroom in New York City. Proceeds from the first show went to defray medical treatment for Klingman's bout with cancer. Material was drawn from the 1972-1975 catalogs of Rundgren and Todd Rundgren's UTOPIA. This marked the first time this classic lineup performed together in over 35 years. Both shows sold out within two days. Also joining this group of incredibly talented musicians are Jesse Gress and Kasim Sulton.
Todd Rundgren's Utopia is together again (with the same line up as the January 2011 benefit shows) for a limited East Coast run. Their 11 date tour will be appearing at The
Paramount Center for The Arts, In Peekskill, NY on Friday, November 18th.
If you are looking for what's happening in Westchester, great live music, or Rock and Roll check out http://www.paramountcenter.org
###