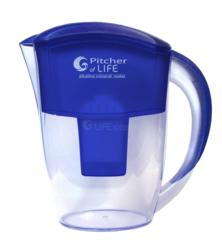 Carlsbad, CA (PRWEB) October 07, 2011
LIFE Ionizers® has released a filtered water pitcher that filters, alkalizes, and imbues water with antioxidant properties. The Pitcher of Life™ is the world's first "unplugged" water ionizer, making it ideal for camping, hiking, picnics and many other places where healthy ionized alkaline mineral water is hard to come by.
More than just a Filter Pitcher
The Pitcher of Life™ does more than just filter water:

Adds Essential Minerals
Quickly Raises Water pH to healthful levels
Creates antioxidant hydroxyl ions in water
Filters harmful contaminants
Makes great tasting water
The Pitcher of Life™ another feature which make it a great choice for people who want healthy water when they're on vacation. The pitcher costs a fraction of what conventional water ionizers cost, making the health benefits of alkaline ionized mineral water accessible to health conscious consumers on a budget.
Limited time offer: Life Ionizers® is offering the Pitcher of Life™ for a limited time for just $49.95 a - savings of over 40%!
Safer than a Filter Pitcher
The Pitcher of Life™ is made of 100% BPA free materials, making it safer than competing water filter pitchers and bottled waters. Recent studies confirm that BPA is a potent hormone disruptor and is not safe for children.
More Convenient than a Filter Pitcher
Designed with convenience in mind, the Pitcher of LIFE™ fits easily in a refrigerator door so it's easy to keep the alkaline water in it ice cold. THE Pitcher of LIFE™ has a built in time-to-change indicator which takes the guesswork out of knowing when to change the filter.
Consumers can buy the Pitcher of LIFE with confidence; it comes backed with a full 1 year warranty. Filters last about 4 months with regular use.
Answering the Needs of our Customers
Life Ionizers® Chief Executive Visionary Rick H. Cabados says the Pitcher of LIFE™ was developed in response to "overwhelming" consumer demand:
"Our customers have been clamoring for a way to get the health benefits they enjoy with our line of home water ionizers when away from home. We used technology originally developed by NASA to create the world's first water ionizer that does not use electricity."
About Life Ionizers
Life Ionizers is division of EarthTrade Water Inc. (http://www.EarthTradeWater.com) which was founded in 1996 by Rick Cabados. LIFE Ionizers has been a leading supplier of home water ionizers in the US since the company was founded.
For more information on the Pitcher of LIFE, visit http://www.lifeionizers.com/products/accessories/travel-systems/pitcher-of-life.html or call (877) 204-7772.
###