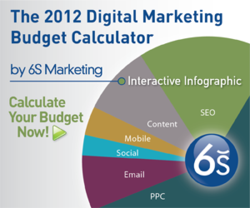 Businesses should be allocating 25% of their marketing budget to digital in 2012
Vancouver, British Columbia (PRWEB) October 12, 2011
According to a new online budget calculator developed by the digital agency 6S Marketing, businesses should be allocating 25% of their marketing budget to digital marketing in 2012.
The budget calculator allows businesses to plug-in their annual revenue, target market location, and time frame and see an instant visualization of how much budget they should be allocating to each digital marketing channel including; mobile marketing, social media, email and search engine marketing.
The calculator was developed by the digital marketing agency 6S Marketing and the mathematics behind the calculator are based upon current trends indicating that businesses are allocating 25% of their total marketing budget to digital marketing; a percentage that is expected to grow and be a projected $40 Billion on digital ad spend in North America by 2013.
The digital marketing budget calculator is a free online tool available to businesses ranging in size from $0.5 million to $10 million a year in annual revenue and is available at DigitalMarketingCalculator.com.
Statistics and sources are included in an infographic highlighting current and projected digital marketing budget trends in North America for 2012.
About 6S Marketing – With a reputation for innovative solutions and cutting-edge strategies, 6S Marketing is a leading digital marketing agency. They provide Internet marketing and search engine marketing services to many of North America's top organizations. Founded in 2000, they have over a decade of experience in digital marketing and are Google Certified Partners for Google Analytics, Google AdWords and Google Website Optimizer. For more information about 6S Marketing, visit http://www.6smarketing.com.
For more information, please contact:
Kelly Robertson, Marketing Manager
6S Marketing
604-282-7604
krobertson(at)6smarketing(dot)com
http://www.6smarketing.com
# # #