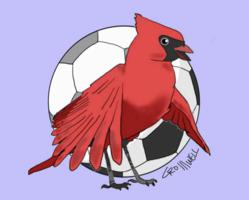 I'm a born artist, not a trained artist. To understand the difference, consider musicians;
trained musicians can play the notes but born musicians write the songs.
Lansing, MI (PRWEB) October 06, 2011
CreativeQuickies.com, a supplier of cartoon logos and customizable cartoon caricatures, is announcing the launch of their new website - officially live as of October 5th, 2011. The company, founded by Clarence E. Cromwell, focuses on designing cartoon logos for business as well as cartoon advertising, custom caricatures, mascot art and a variety of other hand-drawn pieces in digital format.
But what sets Creative Quickies apart from the other cartoon artists on the web? It's the way Clarence aims to make businesses stand out.
"Most business owners are struggling to find a way to create a unique image for their company. A cartoon logo does just that. With this new website, I'll be able to reach out to more businesses and show them that using the same old re-purposed logo from an outsourced overseas design company isn't always the best answer." Stated Clarence Cromwell, founder of Creative Quickies and the man behind the ink.
Some are already warming up to the services offered by Creative Quickies. In September, J.B. Hunt, a national renowned transport and logistics company, contracted Clarence Cromwell of Creative Quickies to create a caricature honoring an employee for 25 years of service.
The website for Creative Quickies will feature a complete listing of the services available as well as an FAQ and a large gallery of past work from cartoon logo and cartoon advertising artist Clarence Cromwell. In addition, the site will feature a regular blog to share information about a variety of topics to help give business owners, advertisers and even individual marketers ideas to put an edge back in their business.
Clarence went on to state "I figure there are a lot of artists out there offering what we're offering, but few of them are armed with the real knowledge of how cartoon logos and small business cartoon logos can help brand a business. Between consults, projects and the blog on our website I aim to make sure my clients always find success - or at the very least love and enjoy the art they've purchased"
The website is currently live in its beta phase and will be fully operational as of October 5th, 2011. For more information on cartoon logos and other artistic services such as cartoon ads, visit http://www.creativequickies.com
###