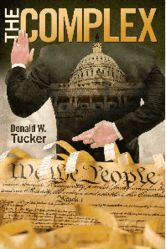 This is the second book for author Donald Tucker, who owns a private investigation agency.
Phoenix, Ariz. (PRWEB) October 11, 2011
A group of self-named outcasts — Special Agents Wesley Charles and Louis Boron, sexy DEA agent Wendy Weisman and Seattle Police officer James Allen — wish they were anywhere but a three-month seminar in Dallas for the Federal Law Enforcement Supplement Office in this new thriller set in 1981. They discover something menacing behind The Complex's facade of inter-agency cooperation: a conspiracy that threatens the entire country. They find it impossible to resist investigating a case featuring a Ku Klux Klan demonstration, breaking and entering, murder, political backstabbings and cover-ups.
The Complex delves into the issues of political corruption, the illegal use of law enforcement and racism, as Wes finds himself passed over for promotion after "making" more cases than any other agent in his office… including the biggest counterfeit bust in the history of the U.S. Secret Service. Bigoted sheriff's police, suspicious-acting state troopers and employees with vacation homes and flashy SUVs add fuel to the fire. When one of them is murdered, they realize they have made a dangerous enemy. A deadly explosion adds just one more obstacle in this case that may have ripple effects at this country's highest political levels before it comes to its final, unexpected conclusion.
This is the second book for author Donald Tucker, who owns a private investigation agency. The first was his autobiography, The Two-Edged Sword. Tucker worked with the Federal Bureau of Narcotics in Chicago after earning a degree in sociology/criminology from the University of Iowa. He transferred to the U.S. Secret Service, where he was promoted to special agent in charge of the Secret Service Office for Arizona. Tucker earned a presidential appointment as U.S. Marshal for Arizona and was selected as Chief of Court Security in Washington, D.C. for the federal court system nationwide before returning to Arizona.
For more information, visit http://www.dontuckerbooks.com
THE COMPLEX
Donald Tucker
Dog Ear Publishing
ISBN: 978-145750-470-9 280 pages $15.99 US
Available at Ingram, Amazon.com, Barnes & Noble
and fine bookstores everywhere
About Dog Ear Publishing, LLC
Dog Ear Publishing offers completely customized self-publishing services for independent authors. We provide cost-effective, fast, and highly profitable services to publish and distribute independently published books. Our book publishing and distribution services reach worldwide. Dog Ear authors retain all rights and complete creative control throughout the entire self-publishing process. Self-publishing services are available globally at http://www.dogearpublishing.net and from our offices in Indianapolis.
###