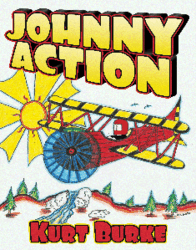 Johnny Action's story provides a rollicking ride for young readers while providing valuable life lessons.
Busan, Korea (PRWEB) October 13, 2011
Johnny Action is different from other children: He was born with a shiny red helmet on his head. This new illustrated children's book shares Johnny's inspiring story. Because he's unusual, people stare, kids laugh at him and nobody will play with him. Johnny's parents encourage him, saying if he studies really hard, he can do exciting things with his helmet. Johnny takes their advice and learns all kind of things besides math and science, such as how to fly an airplane and a hot-air balloon, and how to drive a train.
Johnny Action's story provides a rollicking ride for young readers while providing valuable life lessons: It's the differences that make people who they are, and determination can lead to success. Because he works hard and never gives up, Johnny can do all kinds of things, including building a jet pack, maneuvering a mountain bike through rocks and making a hang glider. Any child who is different, whether he wears glasses, has braces or walks with a limp, can identify with Johnny and learn from his no-holds-barred approach to life. Burke's vibrant illustrations bring the story into living color.
Author Kurt Burke has been creating wacky drawings for children for years and finally decided to put them in print with this book. He has a degree in social science from California State University Chico and has taught English to young children in East Asia for the past six years. Burke, born in Los Angeles and raised in the San Francisco Bay area, lives in South Korea.
For more information, visit http://www.JohnnyAction.net
JOHNNY ACTION
Kurt Burke
Dog Ear Publishing
ISBN: 978-145750-499-0 44 pages $17.95 US
Available at Ingram, Amazon.com, Barnes & Noble
and fine bookstores everywhere
About Dog Ear Publishing, LLC
Dog Ear Publishing offers completely customized self-publishing services for independent authors. We provide cost-effective, fast, and highly profitable services to publish and distribute independently published books. Our book publishing and distribution services reach worldwide. Dog Ear authors retain all rights and complete creative control throughout the entire self-publishing process. Self-publishing services are available globally at http://www.dogearpublishing.net and from our offices in Indianapolis.
Dog Ear Publishing – self-publishing that actually makes sense.
###