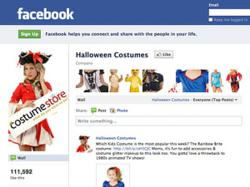 The website has created a true sense of community within its Halloween Costumes page on Facebook.
Dallas, TX (PRWEB) October 06, 2011
What Halloween costumes will be popular this year? Arguably, most Americans who celebrate Halloween don't put much thought into this question until the weeks before October 31st. But blossoming online costume website CostumeStore.com has been speculating all year about what its customers will be wearing. While CostumeStore.com is a year-round costume and accessories retailer, its busiest season begins in September and lasts through Halloween. It is safe to say that this is CostumeStore's favorite time of year.
Although 2011 marks only the website's fourth Halloween online, CostumeStore.com has been cleverly cultivating a sizeable fan base on Facebook - the nation's #1 social media network. Just by looking at the numbers, it is obvious that the fan page is highly popular with over 110,000 fans and climbing every day. Beyond its fandom, the Halloween Costumes fan page is a source of pride for CostumeStore as the website has created a true sense of community within the page. In synergy with its fans, CostumeStore.com uses the page as a meeting point for Facebook users who are searching for or wanting to discuss costume ideas. And some users simply want to post their own costumes from Halloweens past – a feature that only enhances the page's colorful photo gallery.
In this Halloween Costumes forum, fans can bounce ideas off one another and receive feedback from their peers on how they might take their costume to the next level. Visitors will generally see daily posts from CostumeStore regarding discussion topics, celebrity costumes, polls and surveys, themes, and other unique costume ideas. The company's cover model Lucky Lizz even posts on the page frequently, answering fan questions and talking about the costumes that are popular right now.
CostumeStore's popular, customer-friendly Facebook page is one of many features that set it apart from other online competitors. Although the site devotes most of its time to the Halloween season, CostumeStore.com puts a great deal of effort into making other holidays special as well: Saint Patrick's Day, Christmas, Valentine's Day, Mardi Gras and more. In addition to its Halloween Costumes Facebook page, the site can be found on YouTube and Twitter. Taking a cue from its own tagline, CostumeStore.com wants to know: "What do you want to be?"
###