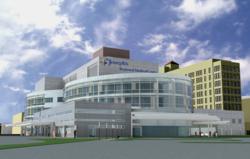 We used the savings generated by MEMdata to buy a new Robotic Surgical System, a new CT for the ER, and new patient monitoring equipment for our entire campus.
College Station, Texas (PRWEB) October 06, 2011
MEMdata was recently recognized by St. Joseph Regional Medical Center of Paterson, New Jersey for its role in the construction of their new state-of-the-art 183,000 square foot Critical Care Building. Using MEMdata's free market competitive bidding services, St. Joseph's came in over three million dollars under budget on equipment costs for the new facility.
Already participating in MEMdata's Performer Elite program which had resulted in over four million in capital equipment savings, St. Joseph's leadership turned to MEMdata for help in equipment planning services for their expansion project in 2010.
"We were in danger of falling behind schedule and going over budget when we brought in MEMdata to assist with equipment planning," said St. Joseph's CFO Jack Robinson. "Bob Yancy and his team went to work immediately and helped us turn things around. We had our grand opening on time, thanks in large part to MEMdata. They worked efficiently with our architects and our general contractor, under the direction of our internal team"
The new state-of-the-art addition to St. Joseph's Paterson campus features separate Pediatric and Adult Emergency Departments, 12 OR theaters including 3 cardiovascular surgery suites, four dedicated critical care units and a rooftop helipad capable of landing the largest medical transport helicopters.
"We used the savings generated by MEMdata to buy a new Robotic Surgical System, a new CT for the ER, and new patient monitoring equipment for our entire campus," added Robinson. "Even though the construction project is finished, we'll continue to use MEMdata's procurement services every time we make a capital purchase. The power and cost efficiency of their free market process has proven itself again and again at this health system."
MEMdata's EPPS Program covers all aspects of new hospital construction, as well as the renovation of existing facilities, including inventory, budgeting, equipment specifications and placement, capital procurement and installation scheduling. MEMdata's expertise extends well beyond medical equipment to include physical plant, IT, dietary, housekeeping and all equipment a hospital defines as capital.
"Our goal is to make sure that every piece of equipment is on site, on time and ready for installation at the very best price," said MEMdata's CEO Bob Yancy. "It's a pleasure working with organizations that appreciate the benefits of full and open competition, and we greatly value our relationship with a market leader like St. Joseph's."
About MEMdata – Founded in 2000, College Station, Texas based MEMdata processes capital equipment purchases for hundreds of medical facilities through its proprietary eRFP database. In addition to securing the lowest prices on equipment purchases, MEMdata provides equipment planning services for construction and renovation projects, life-cycle analysis of capital equipment investments, price benchmarking, and a full range of web-based tools, giving clients access to the most complete database in the industry. For more info, visit: http://www.memdata.com.
About St. Joseph's – Founded by the Sisters of Charity of Saint Elizabeth in 1867, St. Joseph's Hospital has grown to encompass St. Joseph's Regional Medical Center, an academic tertiary medical center; St. Joseph's Children's Hospital, a state-designated children's hospital in Paterson, NJ; St. Joseph's Wayne Hospital; an acute care community hospital; and St. Vincent's Nursing Home, a long-term skilled nursing home in Cedar Grove, NJ. For more info, visit http://www.stjosephshealth.org.
Media Inquiries
Jack Burley
MEMdata, LLC
979-695-1950 x121
###